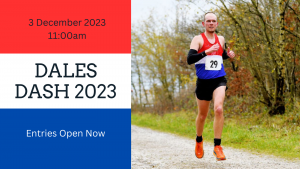 "THE NEWCASTLE DALES DASH"
SAVE THE DATE!
DALES DASH IS RETURNING ON 3rd December 2023 at 11a.m.
HQ: Apedale Country Park, Loomer Road, Newcastle Under Lyme
**New Course since 2021**
5ish Miles permit No Tbf
A hilly trail course set in Apedale Country Park, which brings you all sorts of conditions and if you are lucky great views.
Prizes to the top 3 Male and Female, first veteran male and female in each age group, and our famous spot prizes.
Please collect your numbers on race day at least 30 minutes before the start time.
Fees:
£13:50/15:50 Lower rate for UKA affiliated club member
Entries Here – bookitzone.com
The Race
"THE NEWCASTLE DALES DASH"
11.00am, Sunday 3rd December 2023.
at APEDALE COMMUNITY COUNTRY PARK
Apedale Valley, Loomer Road, Chesterton, Staffs.
Organised by Newcastle (Staffs) AC, this year's race is the 20th in the series.  Our thanks go to our hosts the Staffordshire County Council Ranger Service at the Apedale Community Country Park. A medal will be given to finishers (subject to availability) as well as normal position/age group prizes. 1st 3 Men and Women, 1st Male Vet over 40/50/60/70, 1st Female Vet over 40/50/60/70. The "Margaret Barker Trophies" will be presented as a tribute to Margaret from her friends at Apedale Heritage Centre and Newcastle (Staffs) Athletic Club.  Four trophies will be awarded for the first lady home, for the first Newcastle (Staffs) Athletic Club lady, 1st U16 on the day M/F (open).
The 5 Miles (ish) course is new since 2021. It is an off-road, multi-terrain route that undulates through Apedale and Lymedale. The surfaces include tarmac, limestone, grass and a wooden boardwalk. Certain areas are expected to be wet and muddy and care must be taken, especially if there is a frost. Appropriate footwear should be worn for the prevailing conditions on the day. The race is open to runners aged 15 and over but is, regrettably, unsuitable for wheelchairs or cyclists. Please note that St John Ambulance will be in attendance on the day at the Start/Finish Area and there will be drinks available at the finish. Parking is ample, toilets, no showers. The start and finish is the same as previous years adjacent to the Heritage Centre. Entry limit 200
NB.Entries are online ONLY at Book it Zone There will be no entries on the day or form entries.
***********2019 Results************
******* 2018  RESULTS*******
FREE Race photos by Bryan Dale available at: www.racephotos.org.uk
Location
The race is based at Apedale Community Country Park, ST5 7LB: