It was a dry but breezy morning in Alsager for the annual five mile race. Forty one Newcastle runners turned out for what is probably the strongest local race of the year and the race that kicks off the NSRRA season. There was a sixty year age gap between youngest and oldest Newcastle runner, Jacob Droogmans and, club treasurer, Graham Rowe.
The breezy conditions did not stop a large number of Newcastle runners getting 5mile pbs. Fastest pb of the day went to Steve Bailey, who just failed to get under 30 mins, with a 30:02 chip time. Pbs also for Dave Ford 31:40, Jason Blount 31:56, Dave Crowther 32:15, Mark Cooper 32:58, Bruce Johnson 33:13, Lindsay Dixon 34:27, John Alcock 35:55, Paul Wakefield 38:52, Mandy Wood 39:05, Kat Saunders 42:38, Ruth Parsons 44:00, Sara Crick 44:23.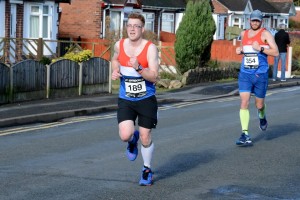 There were also many runners in their first five mile race (I'm going off the Power of 10 website). Impressive debuts for youngsters Jacob Droogmans in 30:57 and Rebecca Twardochleb 32:03. Rebecca just pipped Michelle Buckle, with a well timed sprint to finish, to be first Newcastle woman. I was a bit worried about Jacob, who was under instructions to follow me. I set off far too fast, but Jacob seemed to adjust his strategy well.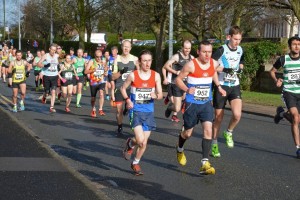 Matt Stanlake, Amy Whitehurst, Susan Twardochleb,Carey Dyer,Darren Storey,Kate Ecart,Stephen Lowe,Emma Carr, and Nicola stevens, were also competing in their first 5 mile races (as far as I know).
First home for Newcastle Tim Twentyman finishing in 28:41, good enough to win the V50 category. Also finishing in under 30 minutes was Leon Bailey, 29:33. These two runners were 4th and 6th in NSRRA group A, and at the moment Newcastle's only group A runners.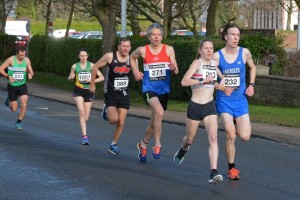 At the moment we have just one runner in group B, Ben Bewley, who was 10th. Group C seems to be the one for Newcastle runners, with 7 runners in total. Six of the first seven group C runners were Newcastle runners, led home by Steve Bailey, Dave Ford and Jason Blount, occupying the first three group places. Mark Cooper and Bruce battled it out for fifth and sixth in group and Melvyn Askey wasn't too far behind in seventh. Potentially some interesting within club battles in this group, particularly if Melvyn gets back to top form after a recent health problem.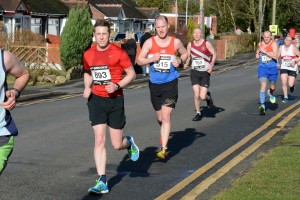 John Alcock and Olly Clarke were mid group D. We've no runners in E. In F Nigel Lee was sixth and Carl Martin also in F was pleased to have a relatively pain free run after struggling with knee pain in recent races. Nigel Symms was third in group G and Graham Rowe also competed in this group.
Turning to the women's groups. Michelle, on her own for Newcastle, in L was second. In M Amanda Wood and Kat Saunders were 8th and 14th. Another potential Newcastle battle for silverware in group W with Belinda Riley and Ruth Parsons finishing 3rd and 4th.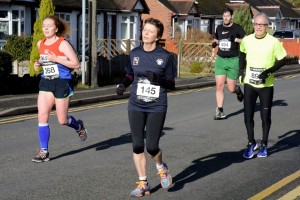 In the NSRRA age groups there were wins for Michelle and Tim, seconds for Belinda Riley and Amanda Wood and thirds for Leon Bailey, Melvyn Askey and Graham Rowe.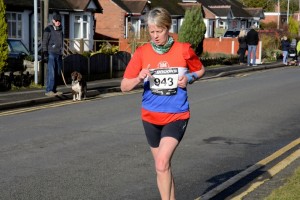 A bit of a lull now before the NSRRA races start coming thick and fast, starting with Knighton 20 on March 13th. Hope to see most of you there.
Thanks to those whose photos I've used, Mick Hall, Bryan Dale and Rachel Tweedie.
Apologies to people not in road runners, not first timers or who did not set a pb as you may not have been mentioned. Apologies for chopped off heads in heading photo. Tim