Saturday saw a very flat but very muddy return to racing in this seasons Birmingham and District Cross Country League. Held at Coombe Abbey near Coventry our Mens team travelled knowing we needed another strong performance to maintain our promotion push to reach Divison 1. A great turnout of 17 members raced and were rewarded with 5th on the day (it remains really close with just 26 points separating the teams in 3rd – 6th on the day).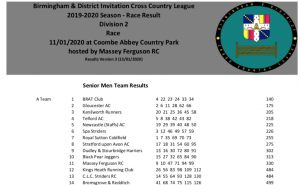 19th Lewis Nagington 34:28
29th Tim Sharman 35:00
39th Ian Bayliss 36:07
40th Matthew Basnett 36:08
48th Ben Brereton 36:34
50th Jacob Droogmans 36:45
52nd Andrew Walker 36:48
81st Craig Taylor 37:54
116th Jerome Stevens 39:18
127th Scott Zikmanis 39:52
134th Neil Gerrity 40:22
170th Jon Ranford 42:16
176th Martin Bailey 42:46
191st Chris Nixon 44:09
192nd Stuart Cassidy 44:13
199th Mark Cotton 44:45
204th Pab Maddox 45:06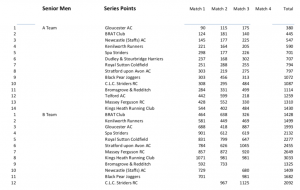 So as you can see we remain in the third promotion position with a gap of just 43 points to Kenilworth – Promotion to Division 1 for the first time is in our own hands as long as we get a great turnout at the final fixture at Lileshall on Saturday 8th February.