On Saturday many of our Junior Members travelled the short distance to Wollaton Park, Nottingham to take part in the culmination of this seasons club cross country fixtures. We had representation in all age groups, both Male and Female, from U/13 up to U/17 and also a team in the Junior Women category.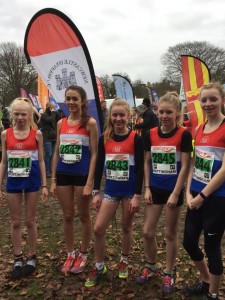 The top athletes from all corners of the country were in attendance and as usual the racing was fast and furious with athletes finishing literally every second in many of the age group races. A real mix of surfaces were provided by the organisers, with mostly flat fast running broken up by a watery ditch and a couple of boggy areas on the various laps. As usual for the championship races aren't in age group order and so the first race of the day was the U/17 Women who were running 5km, made up of 1 small and 1 medium lap. Alex Oakley and Grace Ranford were our competitors in this event and it was Alex who made the strongest start, getting about 50 metres clear of Grace on the first small lap, but gradually over the next lap Grace closed the gap and on passing Alex, pulled clear to finish in 179th position, with Alex finishing just 42 seconds later in 205th position, 35 places up on last year.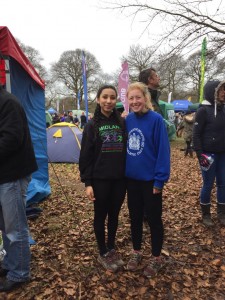 Next race was the U/15 Boys, racing over 4.5km consisting of 1 large lap. Its quite unusual for our three competitors (Elliot Smith, Thomas Wood and Lewis Nagington) to be running just 1 lap and so their pace judgement combined with racing the best in the country would be a significant test. Our first finisher in a great 82nd position was Lewis (an improvement of 109 places on last year!). Thomas and Elliot both took part in the National for the first time and had their own battle all the way round with Thomas leading throughout to finish in 334th just 10 seconds ahead of Elliot in 341st.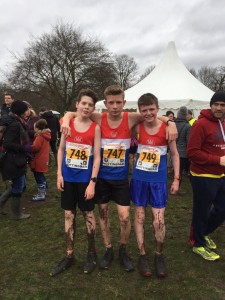 Up next was the Junior Women's race of 6km, running 1 small and 1 large lap. Our team of Gabby Trotman, Sophie Goodfellow and Tasha Stone took on the best athletes in the country and were the only local team to complete a team when they finished in an excellent 18th place overall. Our first finisher was Tasha in 98th position, Tasha had a strong run and pulled away from Sophie on the large lap, with Sophie finishing just 55 seconds back in 118th (an improvement of 27 places on last year). Gabby by her own admission found it hard going having missed some training recently, but she completed our team, finishing in 147th position (an improvement on last year by 41 places).
The next race was the U/13 Girls and our three competitors, Poppy Ranford, Mathilde Wakefield and Beatrice Wakefield were all taking part at this level event for the very first time. Their race was 3km over an extra small lap and 1 small lap. All three girls ran really well, coping with starting from a pen and didn't get carried away with the inevitable charge at the start. Beatrice was our first finisher in 401st position with Mathilde and Poppy not far behind in 451st and 455th respectively.
We had two competitors in the U/17 Mens race, completing 1 small and 1 large lap to cover 6km. Jacob Droogmans was our first runner home but he felt he had a relatively disappointing run finishing in 222nd position. Our other competitor was Ryan Wood who whilst competing at the National for the first time showed his increased fitness levels to finish in 300th.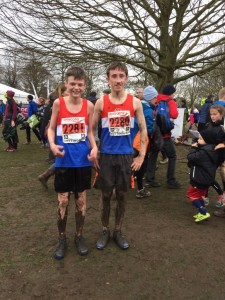 The next race was the U/15 Girls race and we had 5 athletes competing over the 2 small laps totalling 4km. Misha Twardochleb was first back and she improved on last years position finishing in 194th (222nd at Donnington) despite moving up an age group. Next to finish was was Elizabeth Clarkson in 228th with Charlotte Moore finishing in 252nd just 12 seconds behind. Our final two athletes had a real battle all the way around the course and it was Amelia Lowndes timing her sprint just right to finish in 354th that pipped Scarlett Cotton into 356th by 1 second! Scarlett had the consolation of improving her position on last year, despite moving up age groups, by 57 places. The U/15 Girls were the top local team, beating our local rivals to finish in 35th overall.
The final Junior race of the day was the U/13 Boys who were running over 3km, consisting of 1 extra small and 1 small lap. Our sole competitor was Louis Wakefield who ran one of his best races this winter to finish in 264th position, a 38 place improvement on last year and beating some of his local rivals for the first time this season.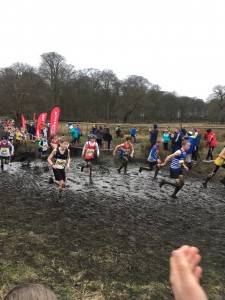 Congratulations to all 19 of our athletes who represented the club at the national championships, again some really strong performances with individual and team improvements on previous years. That concludes the club cross country fixtures for this year so thank you and congratulations to all those who have taken part and represented our club. Thanks to Julia Bailey for all her hard work as Team Manager and to all the parents/guardians for their continued support of the athletes and club this season. Finally Good luck to our Juniors who have got the Inter-Counties and/or the English Schools Championships still to come in March.