On Saturday we returned to Sutton Coldfield for the English National Road Relay Championships. There were teams in the U/15 Boys, U/15 Girls, U/17 Men, U/17 Ladies and a solo run from one of our U/20 women on the first leg of the Senior Ladies Race. As a national competition the very best athletes from across the country gathered to race around the traditional undulating Sutton Park course, ranging from 11 year old U/13's in their first race to Rio Olympic 5000m runner Andrew Butchard! The juniors all compete over the same 3.88km course throughout the age groups, whilst the Junior Ladies cover 4.33km.
The U/15 Boys team was Lewis Nagington, Thomas Wood and Elliot Smith, with all three having their first taste of competition at this level. Lewis came home in 27th position in 13:38, on second leg was Thomas Wood finishing in 38th in 15:08 and bringing the team home in 48th position was Elliot Smith in 18:59. The teams total time was 47:45.
We had two teams in the U/15 Girls Race. In the A Team we had Misha Twardochleb on first leg finishing in 53rd position in 16:00, followed by Charlotte Moore finishing in 39th in 15:28 and Elizabeth Clarkson brought the team home in 30th position in 15:32. The teams total time was 47:00. Our B Team had Scarlett Cotton off first, finishing in 75th position, in 17:25, followed by Holly Nixon finishing 69th in 17:31 on the second leg, with Amelia Lowndes bringing that team home in 57th position in 17:02. This teams total time was 51:58.
In the U/17 Mens Race, First leg was Jacob Droogmans, finishing in 47th position in 13:26, On second was Jordan Nixon who brought the team back in 43rd position in 13:42 and on the final leg was Ryan Wood who anchored the team to 45th position in 16:34. The teams total time was 43:42.
In the U/17 Womens race Alex Oakley was off first and came home in 38th position in 16:25, on leg 2 Alysha Balderson came in 33rd in 15:46 and this allowed Grace Ranford to bring the team back in 29th position in 16:09 on the glory leg. The teams total time was 48:20.
Our only competitor in the Seniors race was U/20 athlete Rebecca Twardochleb who ran against some of the very best senior ladies in the country on the first leg, finishing in 48th position in 16:13.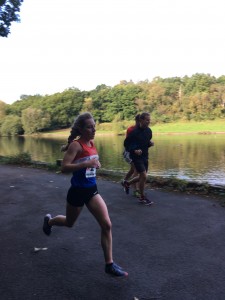 Congratulations to all 16 of our juniors who competed in these National Championships, great individual and team performances.