On Saturday 17th March 8 of our junior athletes were selected to represent Staffordshire Schools at the prestigious English Schools Cross Country Championships held at Temple Newsam, Leeds. They were competing against the top 8 juniors from each County with just under 350 in each race. The forecast snow was limited to just a few showers during the day but the freezing cold weather added to the challenge of the very undulating farmland course. The juniors all travel together on the team coach and stay in a local hotel the evening before, to give them experience for future championships. All the races start in single file pens, so the better you qualify, the further to the front you get to be in your counties pen. With multiple finishers per second these races are really fast and furious! The Inter Girls race covered 3800m, the Inter Boys 5200m, the Senior Girls 4100m and the Senior Boys 6800m.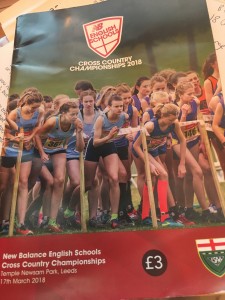 In the Intermediate Girls event (school years 10/11) we had three competitors, with Elizabeth Clarkson, Nadine Tomkinson and Misha Twardochleb, all three having qualified at the trials back in early February. Lizzie (233rd last year) and Misha (238th in the age group below last year) had both competed at Schools Championships before but this was Nadine's first time. Lizzie had another strong run and was third Staffs finisher on the day finishing in 88th position (15.27), Misha worked her way through the field and was the final Staffs counter in 217th (16.20) and Nadine overcame her pre race nerves and despite a slight twisted knee was 261st (16.47). The Staffordshire team finished in 13th place overall.
In the Intermediate Boys event we had 2 competitors, with Lewis Nagington and Elliot Smith. Lewis ran for the first time last year and finished in 280th whilst Elliot has gone from not making his own school team to County selection in just a year! Lewis won the trial and was rewarded with first place in the pen and made the most of this to run yet another good race, finishing as first Staffs counter in a fine 76th position (19.12). Elliot was at the back of the pen and had a good start, however his race was to end prematurely, and was extremely disappointed as he was forced to retire after just 600m. Lewis lead the Staffordshire team to 35th place overall.
In the Senior Girls event (school years 12/13) we had 2 competitors this year, Midlands Cross Country Gold winning pair Grace Ranford and Lauren Charlton. Grace ran at Norwich last year and finished 220th whilst this was Lauren's first English Schools. Grace and Lauren both ran a well paced race, passing runners the whole way around the course. Grace finished as fifth Staffs counter in 206th (19.20), with Lauren finishing in 266th (20.27). The Staffordshire team finished in 29th place.
In the Senior Boys event we had just one competitor this year, with Jacob Droogmans competing in his 5th consecutive English Schools Championships. Jacob was a first year senior in this race and competed well against the older athletes finishing in 286th (28.30). The Staffordshire team finished in 32nd position.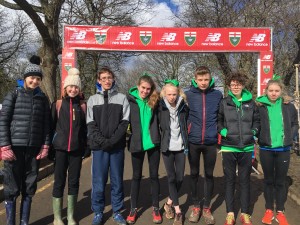 Congratulations to all 8 of our juniors who represented Staffordshire at these championships, you have concluded your cross country seasons at the very highest level and an extra thank you to all the parents and coaches who have supported these and all our other juniors over yet another highly successful cross country season.