A dry spring day greeted our 6 juniors who had been selected to run for Staffordshire AAA's at this years Inter Counties Cross Country Championships. The nationwide event pitted the very best 8 athletes from each county over the undulating Prestwold Hall course in Leicestershire.
In the U/15 Boys we had Lewis Nagington competing over 4.5km and having qualified in 4th position at the county championships, he set off in 4th in the start pen. This was Lewis' first experience of the Inter Counties and the start was the usual mad charge with athletes jostling for position before the first sharp corner after 300m. Lewis started well and ran a great race beating all of his Staffordshire teammates/rivals to finish in a fine 93rd position and lead Staffordshire to 24th position.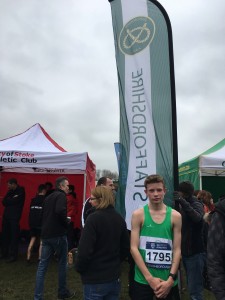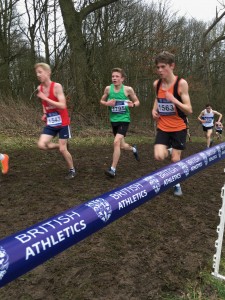 In the U/20 Women's race we had two competitors, Rebecca Twardochleb and Sophie Goodfellow. Both athletes were competing in the U/20 age group for the first time at the Inter Counties. They were running over the championship distance of 6km. Becky started from 2nd in the pen with Sophie in 3rd. Staffordshire's first runner back was Becky, who ran strongly throughout, gradually moving up through the field before finishing in 49th position. Sophie also had a good run, responding well when tiring towards the end to pass several other athletes, finishing in 117th and 4th Staffordshire counter. Becky and Sophie's team finished in 14th position.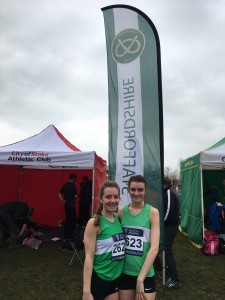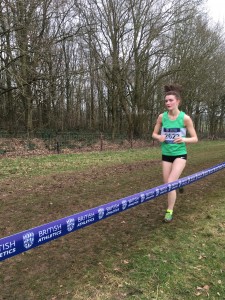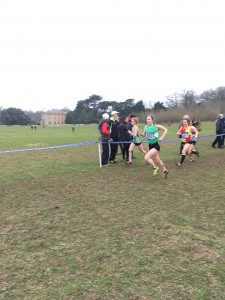 We had two competitors in the U/17 Mens race, with both Jordan Nixon and Jacob Droogmans representing the county after finishing in 3rd and 7th positions respectively at the county championships. The race was held over 6km. Both athletes were in the bottom year in this age group and found the racing extremely competitive. Jordan finished in 204th and Jacob in 237th position.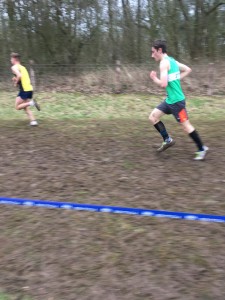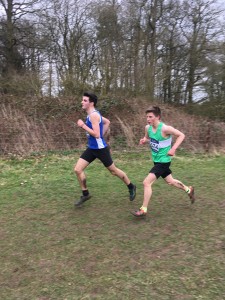 The final event that we had an athlete in was the U/15 Girls race over 4km. Misha Twardochleb had finished in 7th position at the county championships and so started from 7th in the starting pen. Misha ran well and improved her finishing position on last year in the younger age group, crossing the line in 214th place and as the 5th Staffordshire finisher.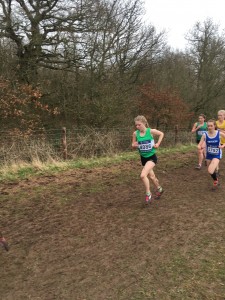 Congratulations to all six of our junior athletes on firstly achieving Staffordshire county selection and then on their performances today at the Inter Counties Cross Country Championships.
The Juniors now only have next weekends English Schools Cross Country Championships left to compete at and so we wish the very best of luck again to Misha, Lewis, Jacob, Jordan, Sophie, Becky and also to Elizabeth Clarkson and Grace Ranford, who are all representing Staffordshire Schools next weekend in Norwich.