Unseasonably warm and sunny conditions greeted our juniors competing in this years Midland Counties Athletic Association Cross Country Relay Championships. Held over a 3km route the juniors in the U/13 – U/17 all did one lap of the gently undulating Aldersley Stadium course. Teams of 3 athletes were required to complete a team and all our juniors ran great races and many were rewarded with individual and team honours.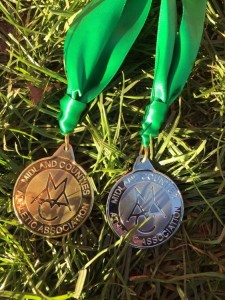 In the U/13 Girls race we had two teams, with Beatrice Wakefield, Lucy Brownsword and Mathilde Wakefield making up 1 team, and Olivia Tipping, Grace Egan and Holly Cooper making up another. On the first leg Bea came back in 10th (13:25) and Olivia was 15th (15:16), on leg 2 Lucy Brownsword maintained 10th position (14:20) and Grace Egan brought that team up to 12th (13:41). On the final leg Mathilde opened up a big gap on the teams behind to finish in 10th place overall (14:22) and Holly Cooper brought our other team home in 13th position (16:06). Great runs from all 6 girls meant that we had two teams in the top 13 teams in the Midlands. Well done Girls.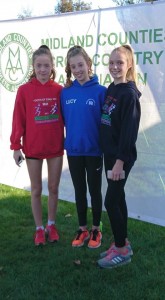 In the U/13 Boys race we again had two teams, with Thomas Barnett, Charlie Ranford and Jamie Betteley in one team, and Joseph Stevens, Harrison Everard and Elliot Sharman in the other team.  On leg 1 Thomas came back in 10th (12:18) and Joe was 14th (12:37), next on leg 2 was Charlie in 10th place (12:37) and Harrison in 16th (15:18). Bringing both teams home were Jamie and Elliot, Jamie came back in 8th (12:17) and Elliot was in 17th place (16:03). Again great running from the boys to finish as 8th and 17th best teams in the Midlands. Well done Boys.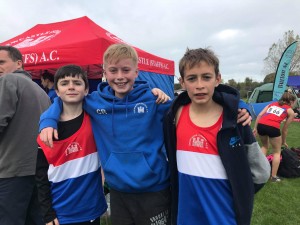 Next out were the U/15 Girls and unfortunately we only had two runners competing so were unable to complete a team. On leg 1 Poppy Ranford finished in 8th position in a great time of 12:45, next out on leg 2 was Lily Stevens and Lily maintained the 8th position with a time of 14:01. Well done to you both.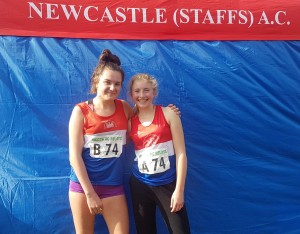 In the U/15 Boys our team of Louis Wakefield, Tyler Davison and Matthew Morgan-Bourne competed against a strong Midlands lineup to finish in 8th position overall. On leg 1 Louis ran the fourth fastest time of the day (10:35) to come back in 3rd place, next out was Tyler who came back in 6th (12:35) and Matthew brought the team home in a fine 8th position (13:39). Well done Boys.
In the U/17 Women's race our athletes dominated with our squad of Nadine Tomkinson, Scarlett Cotton, Elizabeth Clarkson, Jessica Copeland and Misha Twardochleb all running well against the small field to win Gold (and our second team were in Silver medal position but we were one short of completing). On leg 1 Nadine ran the second fastest time of the day (12:14) to come back in 2nd place and Scarlett was in 4th (13:05). On leg 2 Lizzie came back in 1st (12:45) and Jess was 2nd (12:51). On the final leg Misha brought our first team back in 1st position, breaking the tape with a run of 13:29. Congratulations girls a great team performance by all 5 and a well deserved Midlands Team Gold.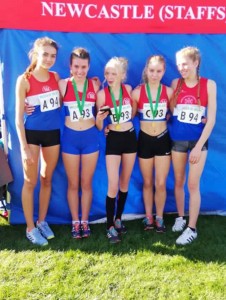 In the U/17 Mens race our team of Lewis Nagington, Elliot Smith and Thomas Mogg all ran great legs to win a well deserved Team Silver. On Leg 1 Lewis Nagington got the team of to a great start running the fastest leg of the day (9:58), next up was Elliot Smith who maintained 1st with a time of 11:03 and Thomas also had a fantastic run to record 12:21 to bring the U/17's home in a fine 2nd position. Congratulations boys, really strong team result and individual runs all round.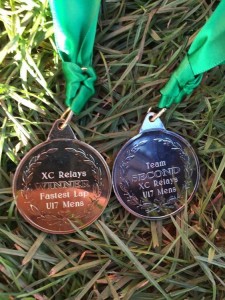 Thank you to Rachel Wakefield and Stephanie Nagington for the photos. Our U/20's, Seniors and Masters also competed and their race report can be found HERE.
Well done to everybody that represented the club at these championships