The final race of this years North Staffs Cross Country League took place on Saturday at Stafford Common. Several of our juniors were in contention for individual and/or team awards going into Saturday's fixture and were rewarded in close fought races throughout the age groups.
In the U/11 Girls race Beatrice Wakefield and Georgia Balerson were separated by just one place and one second at the finish, claiming 23rd and 24th places respectively. Lucy Brownsword was close behind in 29th, with Mathilde Wakefield (34th) and Keria Kesic (38th) completing the team, finishing in 7th on the day.
The U/11 Boys and U/13 Girls compete together and again they were really close races. Jamie Bettley and Lucas Bowden were separated by just 1 place and 1 second finishing in 3rd and 4th places respectively. Daniel Jones was next in 20th position with 1st time competitor Charlie Ranford just 3 seconds back in 23rd position. In 32nd was Stephen Hobson and Thomas McHugh completed our team in 43rd position. The U/11's finished in 3rd position on the day, (just 4 points behind the winners) and this was enough to ensure they finished in 3rd position overall in the league. In the U/13 Girls we had two competitors who finished just seven seconds apart at the finish. Poppy Ranford finished in 34th on debut for the club and Aimee Brown finished in 35th. Unfortunately we were one athlete short in this age group so did not complete a team, but well done to both Poppy and Aimee.
Next race was the combined U/13 Boys and U/15 Girls. In the Boys race Louis Wakefield and CJ Hobson were our only competitors, with Louis finishing in 21st position and CJ in 40th. Again this meant we were one member short of a counting team, but well done to both Louis and CJ. In the U/15 Girls they were in second place going into this final fixture. Our first finisher was Charlotte Moore in 12th position with Lizzie Clarkson just 5 seconds behind in 14th. Next in was Holly Nixon in 20th and Scarlett Cotton completed the team in 24th. The girls finished in 4th on the day but did enough to finish as runners-up in the league!
In the next race the U/15 Boys and U/17 Women are together. In the u/15 Boys Lewis Nagington had gone in to the race in 4th position overall, but had another strong run finishing in 3rd position which was enough to guarantee him individual bronze. Thomas Wood was our next finisher in 29th with Elliot Smith in 33rd. The boys finished as 5th team on the day but unfortunately didn't have a full team at the second fixture so were discounted from the overall team competition. In the U/17 Women's race our three competitors knew that baring disaster they were going to claim gold, they all completed the race safely and this time our first finisher was Grace Ranford in 6th, closely followed by Alysha Balderson in 7th. Alex Oakley was our final counter in 10th and the team were victorious again with just 23 points. Once again the U/17 Women comfortably won the league title.
The U/17 Men and U/20 Women compete together, also with the Senior and Veteran Ladies. In the U/17 Mens race first finisher on this occasion was Jacob Droogmans in 5th position, with Jordan Nixon next in 10th. Ryan Wood and Callum Mitchell completed the team in 22nd and 23rd places respectively, meaning that the U/17 Men finished in 3rd place on the day and also claimed 3rd place in the overall league standings. We had two U/20 Women taking part, in with the seniors, with Rebecca Twardochleb finishing in 13th and Sophie Goodfellow in 26th. In her first season in the age group Becky finished the year as the 3rd in the individual U/20 competition. Both Becky and Sophie were once again important counting members of the senior ladies team and they were rewarded with 3rd place in the Division 1 League overall.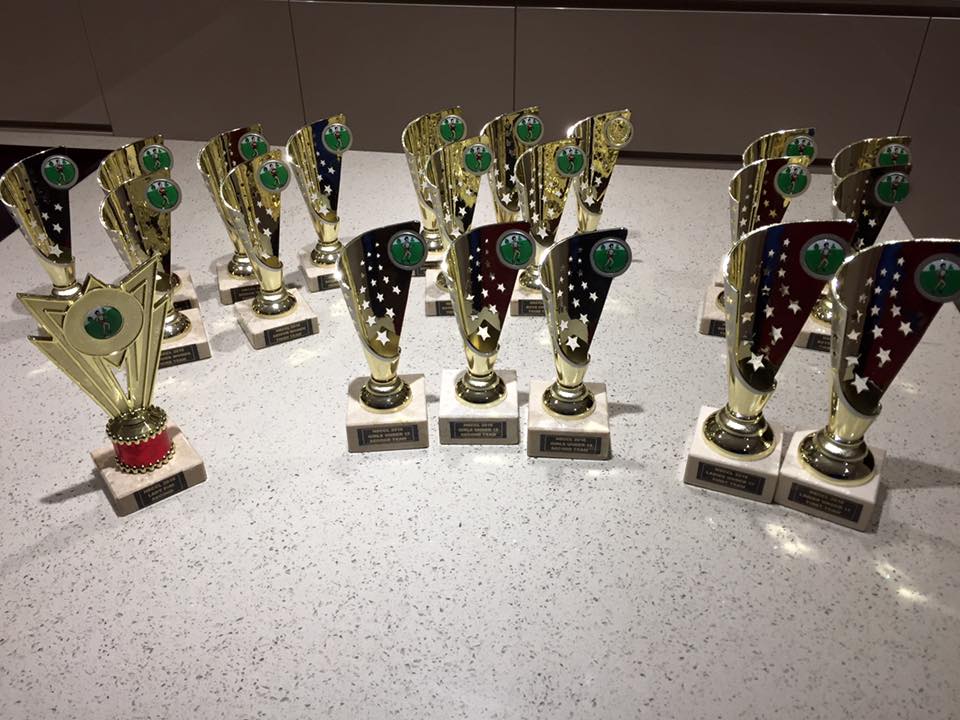 In summary
Individual Awards
U15B 3rd: Lewis Nagington
U/20W 3rd: Becky Twardochleb
Team Awards:
U17W: 1st Team
U15G: 2nd Team
U17M: 3rd Team
U11B: 3rd Team
Snr W Div 1: 3rd Team
Other Overall Individual Placings
U/11B
=6th Lucas Bowden
=8th Jamie Bettley
17th Daniel Jones
21st Stephen Hobson
U/13B
21st CJ Hobson
U/15B
19th Thomas Wood
U/17B
4th Jordan Nixon
6th Jacob Droogmans
19th Ryan Wood
U/11G
12th Beatrice Wakefield
13th Georgia Balderson
19th Mathilde Wakefield
20th Lucy Brownsword
27th Keria Kesic
U/13G
18th Aimee Brown
U/15G
5th Charlotte Moore
8th Elizabeth Clarkson
13th Scarlett Cotton
U/17W
4th Alysha Balderson
5th Grace Ranford
6th Alex Oakley
U/20W
7th Sophie Goodfellow
As normal if an athlete has been in the count or competed in all the fixtures the club buys a trophy for everyone, these will be presented at the Juniors Bowling evening on Tuesday (20th December). Congratulations to all those individuals and teams who competed so well for the club in the league this year, another successful start to the cross country season.  Thanks to the coaches especially Malcolm, Wendy, Julia and Martin who have helped the Juniors and finally please remember to get your entries in to Julia as soon as possible for the Staffs, Midlands and National Championships which take place in the new year. Well done everyone!