This years Staffordshire Cross Country Championships took place at the Aldersley Leisure Village in Wolverhampton on Saturday and the club was represented in many of the age Groups.
The Looped course at Aldersley can be very muddy, but this years championships were held in reasonably dry and mild conditions.
First race of the day was for the U/13 Girls, who were running one large lap of approximately 3km. Poppy Ranford was our sole competitor in this race and she ran strongly throughout finishing in 33rd position in what was only her second race for the club.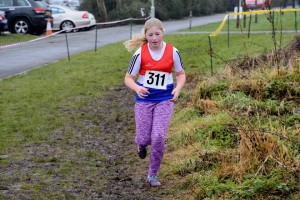 The next race of the day was the combined U/15 Girls/Boys race, held over approximately 4km it consisted of one small lap followed by a large lap. In the U/15 Boys race we had three competitors with Lewis Nagington improving from 15th position last year to a fine 4th place, missing out on County bronze by just 2 seconds! Our next finisher was the rapidly improving Thomas Wood who came home in 21st position. Unfortunately our third competitor, Elliot Smith was forced to stop due to injury. Wishing you a speedy recovery Elliot. In the U/15 Girls race our first finisher was Misha Twardochleb who came through the field to finish in 7th position. Our other two U/15's Elizabeth Clarkson and Scarlett Cotton raced it out, with Lizzie just getting the better of Scarlett on the day, with the girls finishing in 21st and 22nd positions. The girls team score of just 50 points was good enough to earn them a County Team Bronze. Well done Misha, Lizzie and Scarlett.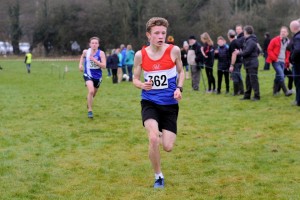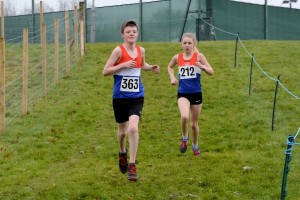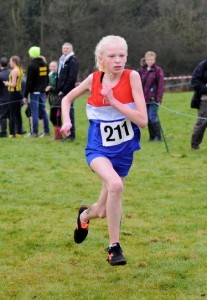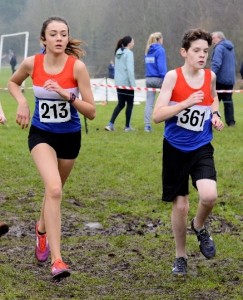 The next race was a combined race with U/17 Women, U/17 Men, U/20 Women and Senior & Veteran Women. The age groups all ran together and are then separated out for the results after the race. This was 2 large laps and was the first time that the U/17 Women had raced over the 6km distance. In the U/17 women's race Grace Ranford was our first finisher in 16th position with Alysha Balderson finishing just 1 place further back in 17th. Alex Oakley completed the count for the team in 20th position. They finished in 5th position on the day. In the U/17 Mens Race Jordan Nixon and Jacob Droogmans were both very much in contention in the leading pack of 8 runners for the first lap. Jordan finished strongest in third position to claim a fine County bronze, with Jacob also finishing in his highest ever Staffs championships cross country position in 7th. The County debutants Callum Mitchell (17th) and Ryan Wood (18th) were our final two finishers bringing the team home in 4th position, just missing out on team bronze by 3 points. All four U/17 men are in their first year of this age group so should be confident going into next season. In the U/20 Women's section of the race (whilst very much mixing it with the Seniors) our first finisher was Rebecca Twardochleb in 4th position (just 7 seconds off 3rd), with Sophie Goodfellow (beating many of the Seniors for the first time) finishing in 6th position. Both Becky and Sophie are also in their first year in this age group so again should be positive for next seasons events. Unfortunately our third U/20 Women withdrew on the morning of the race meaning the U/20's were unable to challenge for U/20 team honours, but they are able to count within the Seniors Team and so finishing 14th and 23rd in the combined race were our first 2 club finishers, with the ladies finishing in 7th position.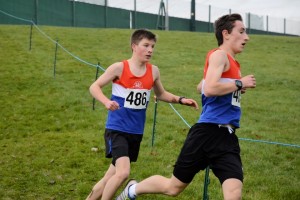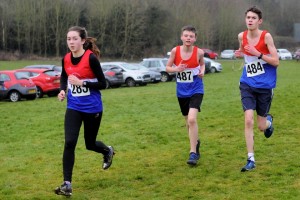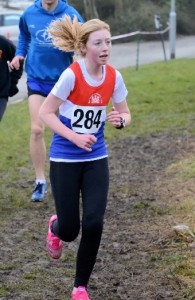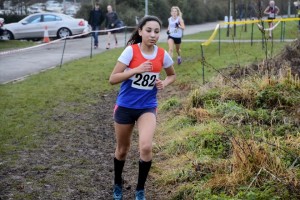 Congratulations to all 16 Juniors who competed and challenged the very best athletes in the county for individual and team honours. Lewis Nagington, Jordan Nixon, Rebecca Twardochleb and Sophie Goodfellow all received letters inviting them to compete for Staffordshire at the Inter Counties Championships to be held at Loughborough in March. Many of our other juniors also received letters saying that they were being considered for selection as they finished outside of the top 5 positions on the day, so our number of athletes selected is certain to increase.  Good Luck to all our Juniors competing at the Midlands Cross Country Championships at the end of January.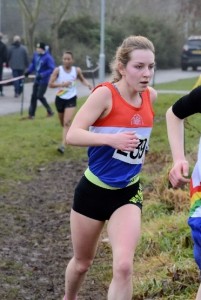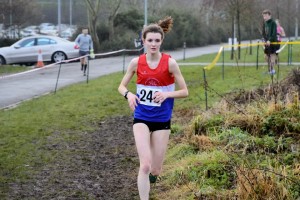 All photos courtesy of Brian Dale at www.racephotos.org.uk