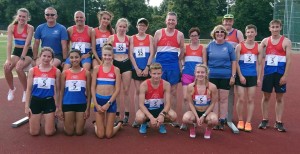 On Saturday 7th July our team of U/17's, U/20's and Seniors travelled the short distance to Nuneaton to represent the club in the third fixture of this years Midlands Track and Field League. Going into this fixture we were in a battle with Banbury Harriers for 1st position and both teams were level on 15 Match points whilst we held the slight advantage of points scored, leading by just 6 points! Thank you to everybody that turned out and competed and/or officiated! On the day we were just short of a couple of athletes and officials (with a couple of members competing for the team despite injury) and we finished agonisingly close in 2nd place just 5 points behind Banbury.  Congratulations to Tracey Johnson Knowles, Sue Twardochleb, Lizzie Clarkson, Nadine Tomkinson, Martin Bailey, Mark Cotton, Scarlett Cotton, Misha Twardochleb, Elliot Smith, Paul Wakefield, Rachel Wakefield, Julia Bailey, Charles Larsson, Jordan Nixon, Jacob Droogmans, Lucy Matthews, Alex Oakley, Lauren Charlton, Lewis Nagington and Rebecca Twardochleb.
With just 1 fixture remainingthe results currently stand as follows:
| Team | Points | League Points |
| --- | --- | --- |
| Banbury Harriers | 1217 | 23 |
| Newcastle (Staffs) AC | 1218 | 22 |
If we were to win the final fixture on Sunday 5th August at Kettering and win by more than 1 point then we would be promoted as league champions – Please let team manager Julia Bailey know that you are available and what events you would like to do! Any spaces mean we had nobody competing in that event.
Results from Fixture 3:
| EVENT | A Position | Name | Performance | B Position | Name | Performance |
| --- | --- | --- | --- | --- | --- | --- |
| 100m | 7th | Mark Cotton | 13.8 secs | 4th | Paul Wakefield | 20.3 secs |
| 200m | 6th | Lewis Nagington | 25.4secs | 5th | Elliot Smith | 46.3 secs |
| 400m | 5th | Lewis Nagington | 57.2 secs | 3rd | Jacob Droogmans | 58.2 secs |
| 110m Hurdles | | | | | | |
| 400m Hurdles | 4th | Jordan Nixon | 70.9 secs | | | |
| 800m | 1st | Lewis Nagington | 2.04.3 mins | 2nd | Jacob Droogmans | 2.13.6 mins |
| 1500m | 2nd | Jacob Droogmans | 4.30.5 mins | 2nd | Mark Cotton | 5.33.8 mins |
| 5000m | 4th | Jordan Nixon | 17:59.7 mins | 4th | Pul Wakefield | 23:00.6 mins |
| 2000m S/C | 1st | Jordan Nixon | 7:21.3 mins | 1st | Charles Larsson | 10:45.8 mins |
| Long Jump | 6th | Mark Cotton | 4.62 m | 5th | Paul Wakefield | 2.52 m |
| Triple Jump | | | | | | |
| High Jump | | | | | | |
| Pole Vault | | | | | | |
| Shot Putt | 6th | Charles Larsson | 5.79 m | 5th | Martin Bailey | 4.77 m |
| Discus | 5th | Charles Larsson | 15.20 m | 3rd | Martin Bailey | 14.28 m |
| Hammer | 5th | Martin Bailey | 14.19 m | 3rd | Charles Larsson | 13.53 m |
| Javelin | 8th | Paul Wakefield | 12.86 m | 5th | Mark Cotton | 6.41 m |
| javelin Guest | | Charles Larsson | 14.92 m | | | |
| 4x100 m Relay | 3rd | | 55.8 secs | | | |
| | | | | | | |
| | | | | | | |
| 4x400 m Relay | 1st | | 4.00.6 mins | | | |
| | | | | | | |
| | | | | | | |
| | | | | | | |
| 100m | 6th | Alex Oakley | 14.9 secs | 4th | Lauren Charlton | 18.4 secs |
| 200m | 6th | Lucy Matthews | 30.7 secs | 2nd | Misha Twardochleb | 29.7 secs |
| 400m | 2nd | Rebecca Twardochleb | 65.0 secs | 1st | Alex Oakley | 66.3 secs |
| 100m Hurdles | 2nd | Scarlett Cotton | 22.9 secs | 1st | Nadine Tomkinson | 26.3 secs |
| 400m Hurdles | 2nd | Scarlett Cotton | 78.2 secs | 1st | Nadine Tomkinson | 86.4 secs |
| 800m | 1st | Rebecca Twardochleb | 2.18.1 mins | 1st | Alex Oakley | 2.34.3 mins |
| 1500m | 2nd | Lucy Matthews | 5:06.6 mins | 1st | Elizabeth Clarkson | 5.51.7 mins |
| 3000m | 1st | Rebecca Twardochleb | 11.03.1 mins | 1st | Lauren Charlton | 12.21.1 mins |
| Long Jump | 6th | Misha Twardochleb | 3.40 m | 5th | Elizabeth Clarkson | 2.80 m |
| Triple Jump | 4th | Misha Twardochleb | 7.85 m | | | |
| High Jump | 4th | Nadine Tomkinson | 1.30 m | | | |
| Pole Vault | | | | | | |
| Shot Putt | 8th | Julia Bailey | 5.05 m | 7th | Rachel Wakefield | 4.78 m |
| Discus | 7th | Rachel Wakefield | 12.30 m | 4th | Julia Bailey | 12.00 m |
| Hammer | 8th | Julia Bailey | 15.92 m | 3rd | Rachel Wakefield | 12.92 m |
| Javelin | 7th | Julia Bailey | 10.29 m | 6th | Rachel Wakefield | 9.30 m |
| 4x100m | 3rd | | 64.1 secs | | | |
| | | | | | | |
| | | | | | | |
| 4x400m | 1st | | 4.33.7 mins | | | |
| | | | | | | |
| | | | | | | |
| | | | | | | |
| | | | | | | |
| Match Positions | Team | Points | | | | |
| 1 | Banbury AC | 394 | | | | |
| 2 | Newcastle (Staffs) AC | 389 | | | | |
| 3 | Nuneaton Harriers | 283 | | | | |
| 4 | Tamworth B | 275 | | | | |
| 5 | Hereford & County AC | 243 | | | | |
| 6 | Kettering Town H | 233 | | | | |
| 7 | Team Shrewsbury | 211 | | | | |
| 8 | Forest of Dean AC | 129 | | | | |
| | | | | | | |