Just four Senior/Vet Men travelled to Droitwich Spa on Saturday for the final fixture in this years Birmingham & District Cross Country League. With a depleted turnout we were guaranteed to be unable to complete the season despite being in 5th position out of 19 Clubs before this final race. The four men who did compete for the club were rewarded with an interesting new course, which all agreed was a good mix of fast flat ground, gentle undulations, bits of wooded single track and even a dry ditch to leap during the three laps, totalling up to approximately 5.5 miles.
Our leading runner in this league this season has been Stephen Ratcliffe, who has travelled up from his home in Milton Keynes for all four fixtures and his hard work and commitment to the club has certainly paid off this season. On the day he finished in 8th position but this was his highest placed finish of the season and with the best of three races to count Stephen finished with just 13 points (with 4th, 2nd and 7th positions) to finish in 3rd position in the league overall. Our next two runners ran very different types of races but finished in exactly the same time! Neil Gerrity set off fast, whilst Tim Twentyman started much more cautiously, and when Neil slowed on the second lap Tim started to reel him in. A real race ensued with Neil accelerating again every time Tim was getting away. Finally in the last half lap Tim edged out his lead and with 150m to go was 10 metres clear, however anyone who's ever run against or watched  Neil knows that he can really sprint at the end of the race, so he was still in with a chance. Despite his best efforts the finish line came just too soon for Neil (and just soon enough for Tim) and they finished with Tim in 36th and Neil in 37th. Neil's consolation was that he was rewarded for such a good race with his best ever finishing position in the league. Our final runner on the day was Martin Bailey and he started well but felt a pull in his calf with a lap to go and so coasted in to avoid further injury, finishing in 75th.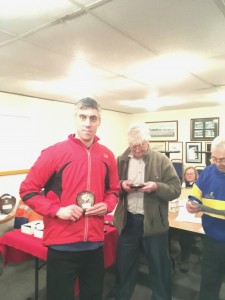 Thank you to the four runners today and also to John Alcock, Martin Davies, Bruce Johnson, Rob Haines and Mark Cooper who represented the club in previous races in the league. Thanks also to Julia Bailey who was our designated official at the four fixtures saving us from a 200 point penalty at each race. Finally congratulations from all at the club to Stephen on his fantastic overall 3rd position.