Saturday saw a team of 14 of our Junior, Senior and Masters Men take on the challenge of the first fixture in this years Birmingham and District Cross Country League held at a wet and windy Burton Dassett Country Park. The weather conditions just added to the challenge of a really tough 6 mile course with virtually no flat ground. A good start to our campaign was vital following last years promotion into Division 2 and our team got us off to a great start finishing an excellent 3rd position on the day scoring just 145 points. Our B Team also finished in 6th position with 725 points.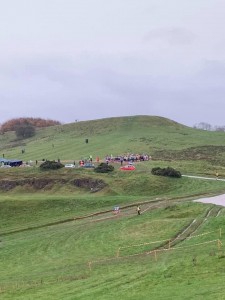 We were lead home by Lewis Nagington, who despite it being his first year as an U/20 and also his first taste of Birmingham League competition finished in a fantastic 4th position (38:24). Lewis also finished 2nd U/20. Next in was fellow U/20 Jacob Droogmans who as well as finishing 14th in 39:35 was 3rd U/20. Chris Morgan was next in, finishing 22nd in 40:36, with Tim Sharman 30th (40:52), Matthew Basnett 35th (41:26) and Ian Bayliss completing our first 6 in 40th (41:55). Craig Taylor was 75th (44:32), Jerome Stevens was 97th (45:46), Neil Gerrity was 108th (46:12), Scott Zikmanis was 122nd (46:56), Martin Bailey was 158th (49:16), Mark Cotton was 165th (50:04) and Pab Maddox was 185th (53:19). Unfortunately the returning Jordan Nixon was unable to finish and we all wish him a speedy recovery from his injury. Click HERE for a Link to all the results 
Congratulations to all our athletes who got us off to a great start, and we really do need as many more Junior/Senior/Masters Men as possible for the next fixture on Saturday 7th December at Clopton Park, Stratford if we are to maintain our promotion push. Thank you to all our supporters out on the course and to Steph and Emma who acted as our officials saving us from a large points penalty.