The English National XC championships this year were held at Parliament Hill, London, on Saturday 24th February and was blessed with glorious sunshine but an arctic breeze to spur on the competitors. The senior Women (85th) & Men's (130th) events were the last 2 races of the day and the 8 previous age group races championships had cut up the course to make for an interesting competition for the adults.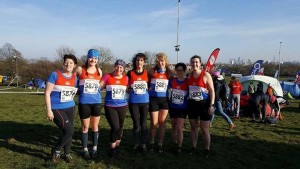 The senior ladies had a 2 lap 8k route kicking off with the long climb up through the club tents and then around a very undulating course taking in most of the mud that Hampstead Heath could throw at them. The club had 7 representatives with 4 to count for the team positions. The team produced an outstanding performance coming in the top 100 (97th) and our clubs strength in depth prevailed. Finishers were Rachel Wakefield, Hannah Jones, Amy Whitehurst, Susan Twardochleb, Helen Ranford, Sharon Tomkinson and Nicola Brownsword.
The senior men then faced a 3 lap 12k route, following out the rest of the age groups up and out onto the Heath. The 3000 or so entrants faced several bottlenecks on the first lap with the sheer volume of runners at clinch points and where the mud was particularly deep. The course was by now particularly challenging with the mud and hills stringing out the field by the end of the first lap. Similarly, the men had a depleted team but managed to field 6 runners on the day to bring home a respectable 139th place.  The finishers were Stephen Ratcliffe, Tim Sharman, Andrew Walker, Paul Wakefield, Kevin Oakley and  Jon Ranford.
Report by Jon Ranford
Photos courtesy of Ian Goodfellow and Martin Bailey
Senior Ladies
613rd Rachel Wakefield 42.14
672nd Hannah Jones 43.13
875th Amy Whitehurst 47.32
885th Susan Twardochleb 47.53
959th Helen Ranford 49.50
988th Sharon Tomkinson 51.11
1057th Nicola Brownsword 55.42
Senior Men
570th Stephen Ratcliffe 49.38
753rd Tim Sharman 51.31
1165th Andrew Walker 55.33
1986th Paul Wakefield 66.22
2106th Kevin Oakley 68.59
2191st Jon Ranford 72.35