A chilly but dry Donnington Park was the venue as 13 of our Juniors went to compete against the very best athletes from across England in the National Cross Country Championships. The Course had a bit of everything, uphills, downhills, hard stoney ground, soft mud and even a section over a field of crops. The races are so competitive that there are 70-100 athletes finishing every minute with every athlete fighting to get the best possible position for themselves and their team.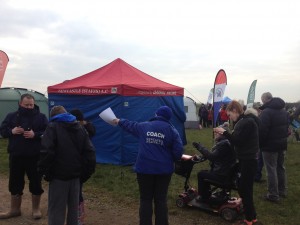 The races weren't in age order (as is usual for Championships) so the first race of the day saw three of our U/17 Ladies compete over 5km. First home was five times Nationals veteran Sophie Goodfellow in 145th position, next back was Gabby Trotman in 188th followed by Courtney Bridgewood in 233rd. Unfortunately the U/17 Ladies were one person short of completing a team, but all three ran well in a race with 400+ entries.
Next race was the U/15 Boys, held over 4.5km. Again we had three runners in this race of 570 entries with Jordan Nixon and Lewis Nagington having their first taste of the 'National experience'. Today Jordan won the season long duel between himself and Jacob Droogmans, running strongly and passing Jacob on the second lap to finish in 128th position, just 2.20 behind the winner. Next in was Jacob in 168th, followed just 15 seconds later by Lewis in 191st position. All three U/15's ran strongly in a highly competitive field of 367 finishers.
The U/13 Girls were next up, running a shorter race of 3km over two loops. Both Misha Twardochleb and Scarlett Cotton were debutants at this level and both acquitted themselves very well in a huge race of 449 finishers! Misha was first home in 222nd position followed by Scarlett in 413th. This race saw approximately 120 finishers every minute!
Next up were the U/15 Girls, and again we were just one person short of completing a team. The U/15's race was 4km. This was a new experience for Alex Oakley, Lola Cotton and Lizzie Clarkson with 354 runners all charging away from the startline down the near 800m straight. Alex was our first finisher, despite not gauging her effort correctly she finished with energy to spare in 240th position. Lola and Lizzie had their own personal duel, with each taking turns to lead and push the pace. Lola made what turned out the decisive break with 250m to go and she finished in 309th position with Lizzie finishing in 310th, just 3 seconds back, Excellent racing Girls!
The final race for our Juniors was the U/13 Boys 3km. Louis Wakefield was our only competitor of the 634 entries (and 420 finishers). Louis ran strongly throughout and battled to the very end of his first 'National'.  Louis was initially disappointed with his run but the margins are so tight in these races that had he run just 60 seconds quicker he would have been 160th or 60 seconds slower for 371st! As it was Louis finished in a highly respectable 302nd position with a time of 15.49 (with four athletes all recording the same time!)
It was great to see so many of the Juniors stay to watch teammates and cheer on the Seniors in the Ladies and Mens Races. Congratulations go out to our junior athletes who all ran well, and with all but 2 never having competed at such a high level before it really does bode well, for them, and our club, for the future. With just the two 'selection only' cross country races left to go, this was the culmination of several athletes season so Well Done to you all and Good Luck to those competing at next weekends English Schools Championships at Nottingham and the following weekends Inter Counties Championships at Birmingham.