21 of our junior athletes were welcomed to Prestwold Hall, near Loughborough to compete in the Midlands Cross Country Championships. Taking on the best athletes from across the region we had competitors in every age group and some fantastic performances.
U/13 Girls – Evie Worsey and Ayah Burton had yet another close race, with Evie coming in 102nd (12:41) to Ayah's 105th (12:58).
U/15 Girls – Molly Ibbs was once again our first finisher in 79th position in 16:31, with Lucy Brownsword coming back in 88th in a time of 17:04.
U/17 Women – Nadine Tomkinson was once again our top U/17 coming home in 17th place in 19:12. Next in was Scarlett Cotton in 44th (20:47), closely followed by Poppy Ranford in 47th (21:03), Misha Twardochleb was 59th (21:57) and Lily Stevens completed our team finishing 68th in 23:08. The girls finished in a very creditable 6th team position. Well done.
U/20 Women – Lauren Charlton continued her rich vein of form with another well judged run to finish in an excellent Bronze medal position in a time of 24:56. Teammate Lizzie Clarkson also got into the top 10 finishing in 10th in a time of 26:25. Unfortunately for the first time in a number of years we did not field a team in the U/20's having finished in the top 2 positions repeatedly. Congratulations Lauren.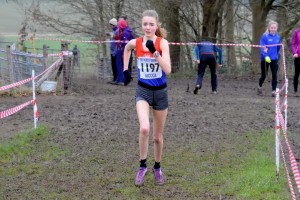 U/13 Boys – We had three representatives in this race, with Oliver Woodwood our first back in 73rd (11:05), followed by Ewan Molyneux in 123rd (12:41) and Elliot Sharman in 126th (13:17).
U/15 Boys – Our team was lead home by Charlie Ranford in 90th (14:34), with Tyler Davison close behind in 92nd (14:40), Joseph Stevens in 108th (15:49) and Harrison Everard 117th in 17:54 completing our team. The Boys Team finished in 16th position.
U/17 Boys – Elliot Smith was our only competitor in this race but Elliot continued his great form to finish in 7th position in a time of 21:26. Well done Elliot.
U/20 Men – We had two athletes in the highly competitive U/20 Mens race with Lewis Nagington finishing in 12th (29:03) and Jacob Droogmans coming back in 16th in 30:56. Well done to you both.