Staffordshire and Cheshire Schools Cross Country Championships took place on Saturday at Betley and Winsford respectively. We had numerous young athletes competing, each representing their District Schools aiming for county honours and the chance to represent their county at this years English Schools Cross Country Championships which are to be held at Liverpool in March. (Apologies if we have missed anybody result, its tough to spot names when your listed as school districts – just let us know and we will add you onto the results below).  We once again had 8 athletes who qualified for the English Schools – congratulations to them and their coaches for all their hard work and support.
Staffordshire Championships
Year 7 Girls –
8th Evie Worsey 11:11
Year 7 Boys – 
6th Oliver Woodward 9:46
29th Daniel Armstrong 11:14
Year 8/9 Girls –
15th Lucy Brownsword 12:49
Year 8/9 Boys –
8th Charlie Ranford 13:51
20th Joe Stevens 14:56
31st Dylan Marchant 15:44
Year 10/11 Girls –
7th Poppy Ranford 15:15
10th Lily Stevens 16:05
Year 10/11 Boys –
17th Tyler Davison 20:18
Year 12/13 Girls –
2nd Nadine Tomkinson 14:28
3rd Elizabeth Clarkson 14:45
4th Misha Twardochleb 15:31
6th Scarlett Cotton 15:53
Year 12/13 Boys –
1st Lewis Nagington 20:14
2nd Elliot Smith 20:27
Cheshire Championships
Year 7 Girls –
28th Ayah Burton
Year 8/9 Girls –
16th Molly Ibbs
24th Beatrice Wakefield
Year 9/10 Girls –
Year 10/11 Boys –
18th Louis Wakefield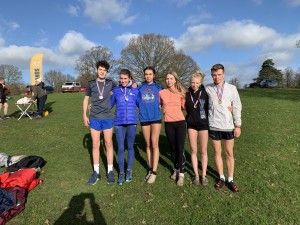 Congratulations to all that competed for their District Schools at either of the Championships and a huge well done to our 8 young athletes,  Charlie Ranford, Poppy Ranford, Nadine Tomkinson, Lizzie Clarkson, Misha Twardochleb, Scarlett Cotton, Lewis Nagington and Elliot Smith who have all been selected to represent Staffordshire Schools at the English Schools Championships on the 14th March 2020.