Sunshine and firm underfoot conditions greeted all 45 of our juniors on Saturday over at Winsford in the first North Staffs Cross Country League fixture of the 2018 season. Held over the now familiar gently undulating Knights Grange course our juniors put in some fantastic individual and team performances.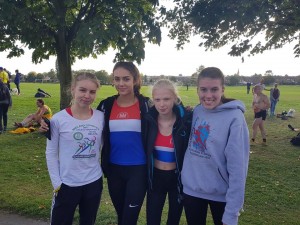 First race of the day was the U/11 Girls, running 1 small lap over 1.5km. We had 5 girls in this race and our team finished in a fine 3rd place. First finisher was Ruby Lovatt in 7th (6:57), followed by Samantha Pattyson in 10th (7:07), Alex Sutton in 19th (7:18), Evangeline Giannitto was 35th (7:48) and Maise Alcock was 43rd (8:11). Well done Girls.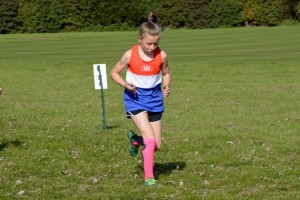 Next up was the U/11 Boys and U/13 Girls combined Race, held over 1 medium lap of 2.1km. In the boys race 7 of our athletes competed and were rewarded with a team victory, winning by 2 points. Leading the team home in a great 3rd position overall was Michael Foster (8:37), closely followed by Oliver Woodward in 7th (8:47), Jay Marchant 8th (8:50), William Tomkinson 9th (8:52), Christian Jones 21st (9:24), George Brownsword 43rd (10:37) and Myles Davison 54th (11:41). Congratulations Boys on a great team win! In the U/13 Girls our 5 girls were led home by Beatrice Wakefield in 17th (9:08), followed by Lucy Brownsword in 24th (9:24), Mathilde Wakefield was 31st (9:52), Caitlin Taylor 43rd (10:47) and Holly Cooper came in 44th (10:49). The team finished in 6th place on the day, Well done Girls.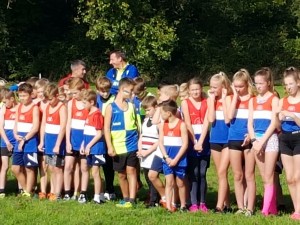 The next race was the combined U/13 Boys and U/15 Girls, run over 1 small and 1 medium lap, totalling 2.6km. In the Boys race our team was led home in 5th position overall by Jamie Betteley in 13th (14:19), followed by Daniel Jones in 16th (14:37), Charlie Ranford was 21st (15:02) just pipping Joseph Stevens 22nd (15:03), Connell Latham 37th (16:04) just ahead of Dylan Marchant 38th (16:06), Harrison Everard in 51st (17:28) and Elliot Sharman in 60th (19:27).  Well done Boys. In the Girls Race we had just two competitors so were unable to complete a team but both Poppy Ranford and Lily Stevens ran strongly, with Poppy finishing in 12th (15:30) and Lily in 20th (16:34). Well done to you both.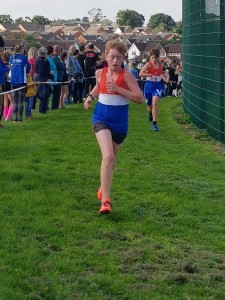 Next up was the U/15 Boys and U/17 Women race held over 4.1km (2 Medium laps). In the Boys race unfortunately we had just 2 athletes competing, however both Louis Wakefield and Tyler Davison ran good races and are looking good for the rest of the season. Louis was at the front of the lead group for the first lap before finally finishing in 4th place (14:54) with Tyler finishing in 22nd (17:17). Well done Boys. In the U/17's women's race we continued our recent domination of the age group recording a clear team victory scoring just 15 points. Our first athlete home was Nadine Tomkinson, who recorded her first league podium finish in 3rd (16:46), next in was Lizzie Clarkson in 5th (17:07) closely followed by Misha Twardochleb in 7th (17:22) and Scarlett Cotton 8th in 17:36. Congratulations Ladies a great team victory!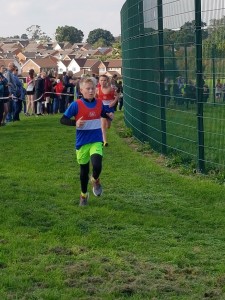 The U/17 Men and U/20 Women raced next (in with the Senior/Masters Women's race) over 2 large laps, totalling 5 km. In the U/17 Mens race Lewis Nagington was our first finisher in 5th (18:42), with Elliot Smith in 21st (21:18) and Thomas Mogg in 31st (23:38). The men finished in 5th position overall, Well done. The U/20 women are included within the main women's race and were once again right to the fore. Rebecca Twardochleb finished in a fine 2nd place overall (20:52), Lucy Matthews was 7th (21:36), Sophie Goodfellow was 9th (21:50), Grace Ranford was 17th (22:22) and Alex Oakley was 40th (23:58). In the Junior women's section Becky was 1st, Lucy 2nd, Sophie 3rd, Grace 5th and Alex 7th. Our Junior women helped our Senior team to a great victory in the ladies race, winning with just 16 points! Congratulations fantastic performances.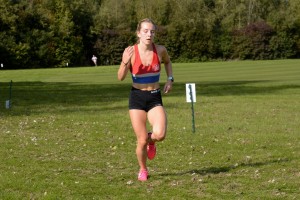 The U/20 Men raced within the Senior/Masters Mens race covering 8km over 3 large laps. First in for the club was James Fradley in 3rd position (27:08), Jordan Nixon was 25th (29:15) and Jacob Droogmans 29th (29:36). In the Junior mens section James was 1st, Jordan was 7th and Jacob 8th. Our 3 U/20's helped our mens team to finish in 3rd place overall on the day, well done.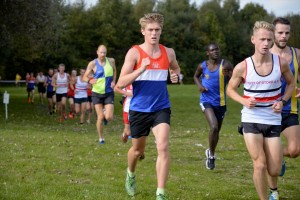 Thank you to Brian Dale (racephotos.org.uk), Susan Twardochleb and Craig Taylor for the photos.
Congratulations to everybody that took part, great running and a great start to this years Cross Country Season – Next league fixture is Saturday 27th October.