The first fixture in our local North Staffs Cross Country League took place on Saturday 1st October at a damp Knights Grange, Winsford. The gently sloping course was made tougher this year by the wet weather but 37 of our Juniors turned out in great numbers to represent the club.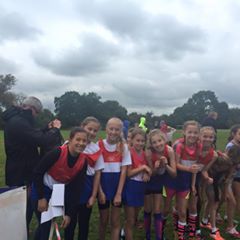 First race of the day was the U/11 Girls who ran 1 Small lap (~1.5km) Beatrice Wakefield (10th), Georgia Balderson (13th), Mathilde Wakefield (17th), Lucy Brownsword (21st), Nancy Lee (36th), Holly Cooper (56th) and Keira Kesic (57th) were our finishers bringing the team home in 5th position. With a continued turnout like this the girls could challenge for team medals at the end of the league season.
Next up was the U/11 Boys and U/13 Girls Combined Race over 1 Medium lap (~2.1km). In the U/11 Boys Jamie Betteley was our first finisher in a great 3rd position, with team mate Jack Loughnane just 1 second behind in 5th. Lucas Bowden (10th), William Loughnane (34th) , Daniel Jones (44th), Stephen Hobson (51st), Matthew Jevons (63rd) and Alex Scott (64th) completed our team finishing in a magnificent 1st position. Leading by just 1 point we need all the boys to run at the next fixtures to go for team Gold. In the U/13 Girls Aimee Brown was our only competitor finishing in 41st position in her first league race.
The next race saw the combined U/13 Boys and U/15 Girls run 1 Small and 1 Medium lap (~2.6km). In the U/13 Boys race our only finisher was CJ Hobson who completed his first league race in 42nd position. Unfortunately Louis Wakefield did not finish. We had four finishers in the U/15 Girls with Charlotte Moore in 12th, just 5 seconds ahead of Misha Twardochleb in 13th. Elizabeth Clarkson was 16th and Scarlett Cotton was 28th. The Girls finished in 4th position on the day so have a great chance of team medals with a continued great turnout.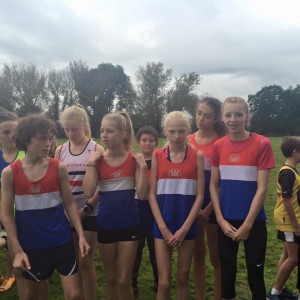 Next up was the combined U/15 Boys and U/17 Womens Race, held over 2 Medium laps (~4.1km). In the U/15 Boys our three team competitors finished in 8th position, with Lewis Nagington in 7th, Thomas Wood in 29th and Elliot Smith in 43rd position. We are the defending champions in the U/17 Women's category and this years team continued on from where last years team left off finishing 1st on the day with just 21 points. First finisher was Alysha Balderson in 6th position, closely followed by Alex Oakley (7th), Grace Ranford (8th) and Lola Cotton (17th) to complete a great team performance.
The U/17 Men competed with the Ladies Races over 2 Large laps (~5km). Jacob Droogmans was first back in 5th, closely followed by Jordan Nixon in 6th. Matthew Cuthbertson (29th) and Ryan Wood completed our team finishing in 3rd position on the day. Again a consistent turnout over the season should lead to team medals for the U/17 Men. The Junior Women run as part of the Seniors race and Rebecca Twardochleb finished in 6th in the race (1st Newcastle finisher) and 2nd JW. Sophie Goodfellow finished 32nd in the race (3rd Newcastle finisher) and 9th JW. Gabby Trotman was 73rd in the race (5th Newcastle finisher) and 10th JW. The 3 Junior ladies helped the Senior team to a fine 3rd position in Division 1 and made a great start to competing against the Seniors.
Our sole U/20 Male competitor was James Fradley competing against the Seniors over three Large laps (~8km). In his first North Staffs League race running against the seniors James was the first Newcastle Male finisher in a fine 3rd position overall and also as the 1st U/20 Man. Its just 9 years since James won his first North Staffs League Race as an U/11 (6th October 2007) and its fantastic to see him competing for the club as a Senior Athlete.
Congratulations to all our Junior athletes who competed for the club at this first fixture, with many promising performances on an individual and team level. Cross Country is a team sport and everyone is a valued member of our team, with every place counting. Good luck to everyone for the next 2 Fixtures. Results will be on our Results Page HERE or full results can be found on the Leagues page HERE. Thanks to Bryan Dale for use of the pictures – for more of Bryan's Free Photos please visit his website www.racephotos.org.uk