The club were represented at Saturdays National Cross Country Relay Championships by four teams of our Juniors. We had a team in each of the U/13 Girls, U/15 Girls, U/15 Boys and U/17 Ladies races. For half of our juniors this was the first time they had competed at this standard of competition and they all acquitted themselves really well. These relays are held over short distances and the racing is of the highest standard. (Note. The first Leg of each race ran approx 40m less than the other legs).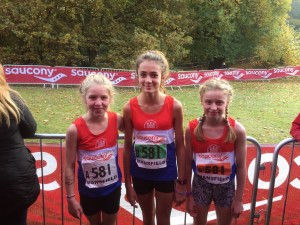 The U/13 Girls race was 3x2km of the undulating but dry parkland course, and the girls finished in a great 55th position. Misha Twardochleb was on the first leg and ran 8.14, Scarlett Cotton was next running 9.04 and finally Amelia Loundes completed the team running 9.09. The total time was 26.29.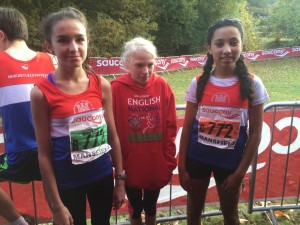 The U/15 Girls ran the same course of 3x2km and they finished in 75th position in the busiest race of the day. Lizzie Clarkson ran 8.25, Lola Cotton was next up running 9.01 and Alex Oakley brought the girls home in 8.53. The total time was 26.21.
The U/15 Boys also ran the same course and they finished in a respectable 47th position. Jordan Nixon was first off and ran 6.59, on second leg was Jacob Droogmans who ran 7.14 and on third leg was Lewis Nagington who ran 7.21. The total time was 21.35.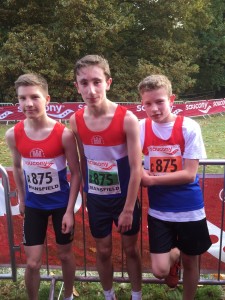 The U/17 Ladies ran a slightly longer course of 3×2.5km and they finished in a great 29th position. On first leg, Sophie Goodfellow ran 10.12, Becky Twardochleb ran 9.46 on the second leg and Lucy Matthews brought the ladies team home in 10.21. The total time was 30.20. The U/17's finished as the 4th placed Midlands Team!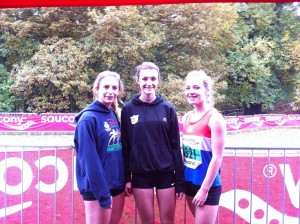 Congratulations to all our Juniors and we look forward to more fantastic performances from you all in the rest of this winters Championships!