A total of 26 of our Juniors represented the club in the second fixture of the North Staffs Cross Country League, held at a wet and windy Stafford Common.
The first race of the day saw the U/11 Girls line up to start just as the heavens opened! We had five of our U/11's in this race and first finisher was Georgie Sullivan, followed by Beatrice Wakefield, Georgia Balderson, Matilde Wakefield and Lucy Brownsword. The girls finished in 7th position. In the U/13 Girls we had four runners in the team, with Misha Twardochleb first finisher in 14th, followed by Scarlett Cotton, Nicki Crutchley and Abi McHugh. The girls finished 8th team on the day. There were five of our U/15 Girls in the next race with just 41 seconds separating all our athletes. First finisher was Charlotte Moore, closely followed by Lizzie Clarkson, Alysha Balderson, Alex Oakley and Lola Cotton. The girls finished in 4th placed team. In the U/17 Ladies race our team dominated the race once again and as well as being clear team winners we had Rebecca Twardochleb as the individual race winner, Sophie Goodfellow, Lucy Matthews, Shannon McCue and Courtney Bridgewood completed the team with all five in the top 13!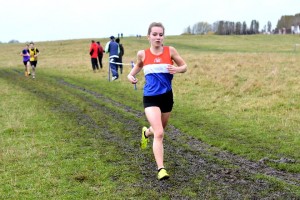 In the U/11 Boys race our first finisher was Vlad Drezou in 39th position, closely followed by Stephen Hobson in 40th and Chad Vasquez in 46th. the boys finished as 10th team on the day. In the U/13 Boys we once again only had one competitor, with Louis Wakefield having another strong run finishing in 29th position. The U/15 Boys were led home by Jacob Droogmans in 4th and Jordan Nixon in 5th, with Lewis Nagington in 14th position bringing the team home in 2nd position on the day. We just had one competitor in the U/17 Mens race with James Fradley finishing in 4th position.
Junior results can be found HERE photos of the races can be found at www.racephotos.org.uk
Overall we had some excellent results at this fixture, Well done to all who represented the club and with two fixtures remaining in the league this year several of our teams and individuals on course for league and club medals/awards – we really do need as many Juniors as possible to run the remaining fixtures at Park Hall (14th November) and Uttoxeter (12 December) Every position counts! Please speak to Julia to confirm your availability and lets finish the league fixtures off in style.