A number of our junior athletes were selected by their district schools to compete in the Staffordshire Schools Cross Country Championships held at Rodbaston College, or the Cheshire Schools Cross Country Championships held at Delamere Forrest.
In the Year 7 Girls races Lucy Brownsword finished in 12th position representing Newcastle Schools, whilst Beatrice Wakefield 20th and Mathilde Wakefield 25th (both Macclesfield Schools) were selected to represent Cheshire in their Intercounties match vs Merseyside to be held on Monday 19th March.
In the year 7 Boys race Jamie Betteley finished 8th for Stafford Schools, Joe Stevens was 14th representing Stoke Schools and Charlie Ranford was 17th representing Newcastle Schools.
In the Junior Girls Race (yrs 8/9) Poppy Ranford was 17th for Newcastle Schools, whilst Lily Stevens was 31st representing Stoke Schools.
In the Intermediate Boys Race (yrs 10/11) Lewis Nagington (representing Newcastle Schools) was 1st, becoming staffs county schools champion when winning by 1 second and Elliot Smith was 8th for Stoke Schools. Over at Delamere Louis Wakefield finished 11th representing Macclesfield Schools.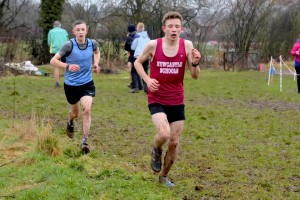 In the Intermediate Girls Race (yrs 10/11) Lizzie Clarkson was 3rd, with Nadine Tomkinson 5th, Misha Twardochleb 6th, Scarlett Cotton 11th and Jessica Copeland 12th – all five girls represented Newcastle Schools.
In the Senior Boys Race Jacob Droogmans finished 5th representing Newcastle Schools.
In the Senior Girls Race Lauren Charlton was 6th (Newcastle Schools) and Alex Oakley was 8th (Staffs Moorlands Schools).
As a result of these two sets of races and other races this season Jacob Droogmans, Lauren Charlton, Grace Ranford, Lizzie Clarkson, Nadine Tomkinson, Misha Twardochleb and Lewis Nagington were all selected to represent Staffordshire Schools at next months prestigious English Schools Cross Country Championships to be held at Temple Newsom, Leeds. Currently waiting as reserves are Alex Oakley, Elliot Smith and Louis Wakefield (Cheshire Schools). Congratulations to all our athletes who took part and good luck to all those selected for the English Schools.