We had a great turnout of juniors at Saturdays Midlands Cross Country Championships held at Wollaton Park, Nottingham. There were great performances throughout the day which was capped by our U/20 Women winning gold in the team event! The organisers used yet another different course around the undulating parkland grounds of Wollaton Hall which encompassed all the best parts of Cross Country including the now customary logs to jump, twice on each lap!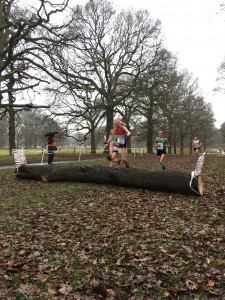 First race of the day, and enjoying the best underfoot conditions were the U/17 Women who ran 2 laps covering 5km. First athlete home for us on the day was Elizabeth Clarkson who finished in a fine 13th position (20.43), having come 45th last year. Next back was Alex Oakley finishing in 51st place (23.32). As has been the case too often this season we only had two athletes so were unfortunately one short of completing a team.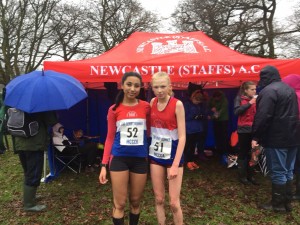 Next up were the U/15 Boys who were racing over 2 medium laps totalling 4km. Elliot Smith and Louis Wakefield once again represented the club  and were in a closely matched tussle over the first lap before Elliot finished the slightly stronger to come in 46th place (15.34) with Louis finishing in 77th (16.29).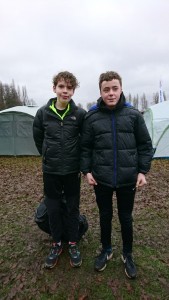 The third race of the day was the U/13 Girls and they ran two small laps and covered 3km. First finisher for the club in this age group once again was Beatrice Wakefield, who finished 82nd (14.40), with Lucy Brownsword just 20 seconds back in 88th (15.00) and Mathilde Wakefield just 17 seconds behind in 97th (15.17). In these championships the girls needed 4 runners to complete a team so we were just one short on the day.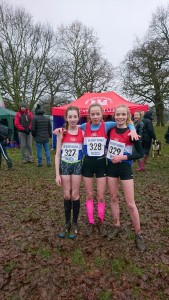 The U/17 Men were next up, running 6km over 3 laps. First finisher was Lewis Nagington who finished in 19th place (22.16) despite not remembering to put on his timing chip until it was recovered with a last minute sprint with 1 min to the start. Jacob Droogmans recovered well from a bad start and was 43rd (23.47).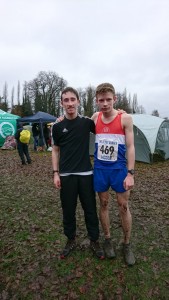 Next were the U/13 Boys who had to cover 2 small laps, covering 3km. Charlie Ranford ran his best race of the season so far to finish in 69th (13.38), with Joseph Stevens next in 76th (13.52). Our next two athletes had a real battle which came down to a final sprint for the line. Just victorious was Tyler Davison in 92nd (14.43) with Jamie Betteley next in 93rd (14.46). The boys team finished in 16th position overall.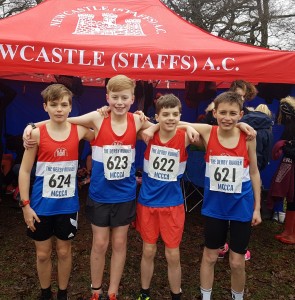 The U/15 Girls race was next, covering 4km over 2 laps. Our first finisher was Misha Twardochleb who was 25th (17.11), next was Nadine Tomkinson who finished 31st (17.39) despite being spiked early in the race. Next was the ever improving Scarlett Cotton, who improved by 43 places on last year to finish in 40th (18.09), followed by Poppy Ranford in 81st (19.50) and Lily Stevens in 84th (20.39). The U/15 Girls team finished in a fine 6th position to establish themselves as one of the top teams in the Midlands.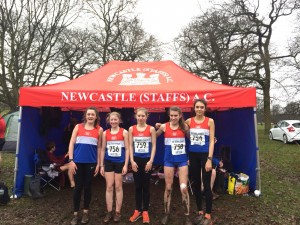 In the U/20 Women race we had three athletes competing over the muddy and undulating 3 lap 6km course. Our first finisher was Lucy Matthews in 8th position (25.49), Sophie Goodfellow was 14th (27.12) and Lauren Charlton was our final counter in 20th (28.16). The U/20's were fabulous team winners scoring just 42 points, beating local rivals Cannock and Stafford AC by 9 points, with Kettering Town Harriers in 3rd with 65 points. This is the clubs best team performance for many years at the Area Level so congratulations go to Lucy, Sophie and Lauren.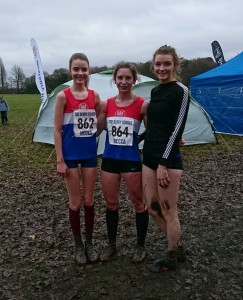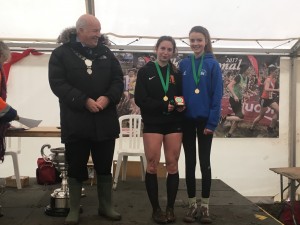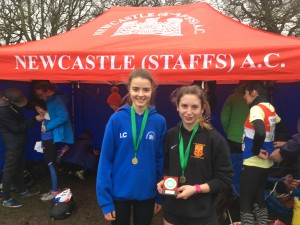 We just had one competitor in the U/20 Mens Race, held over 8km (3 laps). Ben Meir ran a strong race to finish in 21st place (30.51).
Congratulations to all our athletes who represented the club so well at these Midlands Championships, yet again there were some fantastic individual and team performances, not least our victorious U/20 Women.
Thank you to everyone who provided the photos, Rachel Wakefield, Jon Ranford, Julia and Martin Bailey
It is the Staffordshire and Cheshire Schools Trials next Saturday so good luck to everyone for those and the rest of the season.