Sunday saw a small group of club members compete at the Pingles Stadium, Nuneaton in the first fixture of this years Midland Track and Field League. Competing against seven other teams our 15 athletes battled valiantly to fill as many events as possible, with Jordan, Jacob, Lola and Wendy all competing for the second time this weekend! After an excellent start (we were in second after 10 events), our lack of numbers meant we slowly fell down the pecking order and we finished the day in 6th position.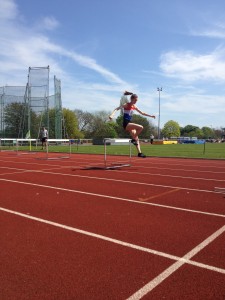 Four of our team were U/17 athletes having their first experience of Midland League competition, with Lola Cotton (200m, 1500m, Long Jump & 4x400m) Jordan Nixon (100m, 800m, 2000m SC & 4x400m), Jacob Droogmans (200m, 800m, 1500m & 4x400m) and Adam Fradley (200m, 400m, Long Jump & 4x100m) all taking the step into seniors competition in their stride.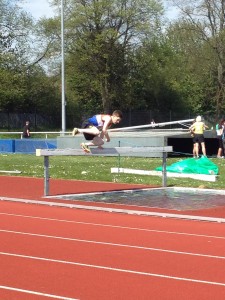 For the Ladies, Laura Matthews made up for lost time and competed in seven events, 100m, 200m, 1500m, Long Jump, 4x100m, 4x400m also including a debut performance over 400m Hurdles! Wendy Fradley completed her weekends work, racing over 100m. Michelle Buckle made a last minute decision to compete and put in strong performances over 400m, 800m, 3000m, 4x100m & 4x400m. Sophie Goodfellow took a well earned break from A'level revision to pick up great points in the 400m, 800m, 3000m, 400m Hurdles, 4x100m & 4x400m. Despite a knee injury (no running allowed) Amy Whitehurst took part in the Shot Put, Discus, Hammer, Javelin and also had a sneaky run in the 4x100m! Team manager Julia Bailey competed in the Shot Put, Discus, Hammer, Javelin & 4x100m.
Mark Cotton answered the call to compete and showed great speed competing in the 100m, 400m, Long Jump & 4x100m. Tim Twentyman gained great points in the 1500m, 5000m, 2000m SC & 4x400m despite struggling with muscle issues on the day. Charles Larsson followed up a 31 mile walk/run on Saturday to throw Shot Putt, Discus, Hammer, Javelin and as a late sub in the 4x100m. Likewise Darren Smith answered the call for throwers and gained great points in the Shot Put, Discus and Javelin. Martin Bailey threw the Hammer and ran in the 5000m, 4x100m & 4x400m.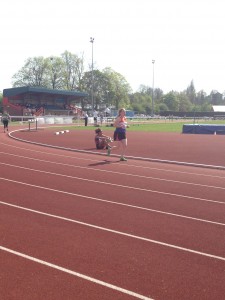 Our results can be found HERE. Thanks to our Officials, Wendy Fradley, Darren Smith and Hannah Jones (who still came and acted as track judge after picking up an injury the day before) and to all those who assisted during our officiating duties. The next fixture is Saturday 4th June at Burton and we really need a few more people to come and compete and/or officiate for the club because every point counts! Everybody welcome! Please speak to Julia Bailey to ask about whats involved, competing and to confirm your availability.