Sunday saw the final fixture in this years Midlands Track & Field League held at a hot and humid Kettering. Going into the event we were just 1 match point behind Banbury but were ahead in points scored by just 1 point! – already guaranteed promotion the aim was to go up as Division Champions and to do that we had to win and win by more than 1 point!
We had a great turnout of members once again at this deciding fixture and the efforts of those there today and those who had competed for us over the whole season were rewarded with victory!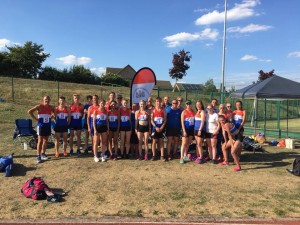 Club Members who competed this season (in no particular order and hope I've not missed anyone) to; Tracey Johnson Knowles, Susan Twardochleb, Lizzie Clarkson, Nadine Tomkinson, Mark Cotton, Scarlett Cotton, Misha Twardochleb, Jacob Droogmans, Hannah Jones, Elliot Smith, Paul Wakefield, Rachel Wakefield, Charles Larsson, Jordan Nixon, Lucy Matthews, Alex Oakley, Lauren Charlton, Lewis Nagington, Stephanie Nagington, Rebecca Twardochleb, William Lovatt, Kevin Oakley, Joel Clews, Darren Smith, Sharon Tomkinson, Brian Tomkinson, Amy Jackson, Zara Haddon, Laura Matthews, Sophie Goodfellow, Amy Whitehurst, Kevin Davison, James Ibbs, Paul Tatler, Kelly Little, Lisa Hawkins, Shaun Allen, Martin Bailey and special thanks to Team Manager Julia Bailey for all her hard work once again this season.
Thanks go out to everybody that competed and/or officiated at any of the fixtures this year – you all did the club proud and every point earn made the difference.
Provisional Results from todays fixture:
| EVENT | A Position | Name | Performance | B Position | Name | Performance |
| --- | --- | --- | --- | --- | --- | --- |
| 100m | 6th | Jacob Droogmans | 12.7 secs | 5th | Elliot Smith | 18.7 secs |
| 200m | 6th | Shaun Allen | 28.1 secs | 4th | Mark Cotton | 28.1 secs |
| 400m | 5th | Lewis Nagington | 57.3 secs | 5th | Jacob Droogmans | 57.4 secs |
| 110m Hurdles | | | | | | |
| 400m Hurdles | 2nd | Jordan Nixon | 73.3 secs | | | |
| 800m | 1st | Lewis Nagington | 2.04.9 mins | 1st | Jacob Droogmans | 2.07.2 mins |
| 1500m | 1st | Lewis Nagington | 4.28.1 mins | 1st | Jordan Nixon | 4.38.9 mins |
| 3000m | 4th | Shaun Allen | 10.16.1 mins | 2nd | Mark Cotton | 12:43.6 mins |
| 3000m S/C | 2nd | Jordan Nixon | 11.:29.7 mins | 2nd | Charles Larsson | 16:43.8 mins |
| Long Jump | 4th | Paul Tatler | 5.02 m | 1st | Mark Cotton | 4.44 m |
| Triple Jump | | | | | | |
| High Jump | 3rd | Shaun Allen | 1.50 m | | | |
| Pole Vault | | | | | | |
| Shot Putt | 2nd | Brian Tomkinson | 8.21 m | 2nd | James Ibbs | 6.90 m |
| Shot Putt Guest | | Charles Larsson | 5.86 m | | | |
| Discus | 4th | James Ibbs | 18.34m | 1st | Kevin Davison | ? m |
| Discus Guest | | Charles Larsson | 15.05 m | | | |
| Hammer | 3rd | Brian Tomkinson | 22.20 m | 2nd | Darren Smith | 16.15 m |
| Hammer Guest | | Charles Larsson | 15.17 m | | | |
| Javelin | 4th | Paul Tatler | 27.60 m | 3rd | Kevin Davison | 19.92 m |
| 4x100 m Relay | 4th | | ? secs | | | |
| | | | | | | |
| 4x400 m Relay | 2nd | | ? mins | | | |
| | | | | | | |
| 100m | 7th | Hannah Jones | 15.9 secs | 4th | Kelly Little | 18.4 secs |
| 200m | 5th | Lucy Matthews | 30.2 secs | 2nd | Alex Oakley | 30.4 secs |
| 400m | 1st | Rebecca Twardochleb | 65.2 secs | 1st | Alex Oakley | 69.2 secs |
| 100m Hurdles | 2nd | Scarlett Cotton | 22.1 secs | 2nd | Nadine Tomkinson | 22.6 secs |
| 400m Hurdles | 2nd | Scarlett Cotton | 80.5 secs | 1st | Nadine Tomkinson | 83.2 secs |
| 800m | 1st | Rebecca Twardochleb | 2.25.3 mins | 1st | Alex Oakley | 2.37.8 mins |
| 1500m | 1st | Rebecca Twardochleb | 4:57.1 mins | 1st | Lucy Matthews | 5:07.2 mins |
| 3000m | 2nd | Lauren Charlton | ? mins | 1st | Misha Twardochleb | ? mins |
| Long Jump | 5th | Misha Twardochleb | 3.34 m | 3rd | Kelly Little | 2.04 m |
| Triple Jump | 3rd | Misha Twardochleb | 8.07 m | 2nd | Lauren Charlton | 7.46 m |
| High Jump | 3rd | Scarlett Cotton | 1.35 m | 1st | Nadine Tomkinson | 1.30 m |
| Pole Vault | | | | | | |
| Shot Putt | 3rd | Amy Whitehurst | 6.49 m | 5th | Lisa Hawkins | 5.51 m |
| Discus | 5th | Amy Whitehurst | 15.05 m | 4th | Julia Bailey | 13.06 m |
| Hammer | 5th | Amy Whitehurst | 17.33 m | 3rd | Julia Bailey | 14.74 m |
| Javelin | 3rd | Hannah Jones | 17.12 m | 4th | Julia Bailey | 10.86 m |
| 4x100m | 4th | | ? secs | | | |
| | | | | | | |
| 4x400m | 1st | | ? mins | | | |
| | | | | | | |
| Match Positions | Team | Points | | | | |
| 1 | Newcastle (Staffs) AC | 458 | | | | |
| 2 | Banbury AC | 418 | | | | |
| 3 | Kettering Town H | 322 | | | | |
| 4 | Hereford & County AC | 202 | | | | |
| 5 | Nuneaton Harriers | 176 | | | | |
| 6 | Forest of Dean AC | 134 | | | | |
| 7 | Tamworth B | 129 | | | | |
| 8 | Team Shrewsbury | 91 | | | | |
| | | | | | | |
| Overall Positions | Team | Match Points | League Points | | | |
| 1 | Newcastle (Staffs) AC | 30 | 1635 | | | |
| 2 | Banbury AC | 30 | 1676 | | | |
| 3 | Kettering Town H | 20 | 1094 | | | |
| 4 | Hereford & County AC | 18 | 953 | | | |
| 5 | Team Shrewsbury | 13 | 773 | | | |
| 6 | Tamworth AC B | 12 | 839 | | | |
| 7 | Nuneaton Harriers | 12 | 673 | | | |
| 8 | Forest of Dean AC | 9 | 641 | | | |