On Saturday 28th our athletes took part in the second league cross country fixture and we had 21 Ladies and 21 Men competing at Park Hall Country Park.
The ladies race combines the U/20's, Senior Ladies and Veteran Ladies over two laps (totalling approx 5.2km) of the undulating course.
Congratulations to U/20 Rebecca Twardochleb who led, virtually gun to tape, to win the race overall by a massive 31 seconds ahead of her nearest challenger. Next finisher was fellow U/20 Lucy Matthews in a fine 9th (an improvement of 7 places and as 4th U/20), Michelle Buckle was 17th (4th W40) and Sophie Goodfellow was 26th (and 9th U/20). Grace Ranford was 33rd (10th U/20), Carey Dyer was 40th, Kayleigh Morris 45th, Rachel Wakefield 71st, Lisa Ho 82nd, Jane Smallwood 86th, Hannah Jones 96th, Kat Saunders 103rd, Cheryl Everard 129th, Vicki Stevens 131st, Susan Twardochleb 140th, Helen Ranford 156th, Pascale Wrigley 169th, Belinda Riley 172nd,  Nicola Brownsword 174th, Tracy Johnson-Knowles 187th and Stephanie Nagington 224th.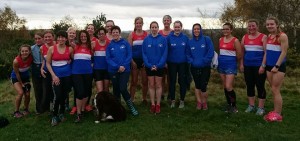 Such a fantastic turnout of ladies was rewarded with an on the day team victory, beating their nearest challengers by 15 points and moving the team up to second place, just 1 point behind the leaders.
The mens race also includes the U/20's and Veterans and they cover two large laps of just 7000m in total. Our first finisher was U/20 Ben Meir in 34th (an improvement of 33 positions!), Martyn Davies was 52nd, Neil Dixon 60th (on his first xc for the club), Ben Bewley 64th, Shaun Allen 65th, Tim Twentyman 66th and Ian Baylis 67th to complete the scoring 6. Bruce Johnson 70th, Tim Sharman 88th, Jerome Stevens 111th, Neil Gerry 118th, xc first timer Andrew Walker 138th, Jon Ranford 180th, Mark Cotton 181st, John Alcock 203rd, Andy Worsey 227th on his xc debut, Mark Cooper 228th, Paul Wakefield 243rd, Kevin Oakley 257th, James Ibbs 258th and Ian Goodfellow 279th.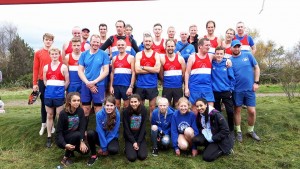 Another great turnout of athletes meant that our men finished in 4th on the day scoring 341 points and move up to 3rd overall with just two fixtures left to go. A great performance from the men and a really encouraging turnout of senior/veteran members in both Ladies and Mens races means we are in the medal positions in both the Senior and Vet categories. The next fixture is on the 18th November at Stafford Common and again we need as many athletes as possible to compete.
Full results can be found HERE
Our Juniors also competed in the league and their Race Report can be found HERE