The second fixture in this years North Staffs Cross Country League took place on Saturday 28th October at Parkhall Country Park. Following some great results at the first fixture at Winsford our junior athletes went into this fixture looking to improve their individual and team positions.
In the U/11 Girls race we had Ruby Lovatt, Thea Bailey, Evie Worsey and Maddison Walker. The girls did 2 small laps totalling 1800m and Ruby was our first finisher in 6th position, Thea was 11th, Evie was 40th and Maddison was 51st. The girls finished in 5th position on the day. Well done Girls.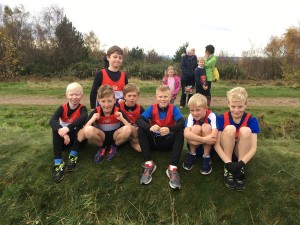 In the U/11 Boys and U/13 Girls race over 2300m we had Daniel Jones, Harvey-Ray White, Connell Latham,  Harry Hughes, Jamie Weller, Jack Walklate, Joseph Thorne, Beatrice Wakefield, Lucy Brownsword, Mathilde Wakefield and Molly Ibbs. In the boys race Daniel was 16th, Harvey 19th, Connell 25th, Harry 52nd, Jamie 53rd, Jack 58th and Joseph in 59th. The boys finished in 5th on the day and are now 5th overall with two fixtures remaining. In the girls race Bea was our first finisher in 20th, Lucy was 25th, Tilde in 30th and Molly in 34th. The girls also finished 5th on the day and are in 5th position overall.
In the U/13 Boys and U/15 Girls race, held over 2700m, we had Harrison Everard, Luke Bennett, Charlie Ranford, Jamie Betteley, Joseph Stevens, Lily Stevens, Poppy Ranford, Zara Haddon, Scarlett Cotton, Nadine Tomkinson and Misha Twardochleb. In the boys race Joe was first finisher in 28th, with Jamie in 34th, Charlie in 43rd and Harrison in 60th. The boys finished in 9th on the day and remain in 9th overall. In the girls race Nadine and Misha had another close race with Misha just getting the upper hand on the final sprint to finish in 6th, just 2 seconds ahead on Nadine in 8th. Next in was Scarlett finishing in 12th. Zara, Poppy and Lily also raced all they round and there was just 8 seconds separating them at the finish. Zara finished 26th, Poppy 27th and Lily 29th. The girls team finished in 2nd on the day and are now in 2nd position overall. Well Done.
The U/15 Boys and U/17 Girls race was over 3000m. In the Boys race we had just two competitors again. With positions reversed this race Louis Wakefield had a much better race finishing 12th and Elliot Smith just 5 seconds behind in 15th position. Well done boys, more great racing. In the U/17 Women's race we had three competitors who finished 2nd on the day, but are unable to count in the team competition after not completing a team last time out. Elizabeth Clarkson just missed out on the victory this time but finished in 2nd with Charlotte Moore finishing in 3rd just 2 seconds behind. Alexandra Oakley improved by 2 positions to finish in 12th position. Well done Ladies.
In the U/17 Mens race our three competitors (Jordan Nixon, Lewis Nagington and Jacob Droogmans) were all to the front of the field right from the start.  They ran two large laps covering 5200m. On this occasion Lewis was our first finisher (improving 2 places) in 2nd position, with Jacob next in 5th position and Jordan in 9th. The team finished in 1st position on the day and also moved into 1st overall. Congratulations to you all, great team work.
Our U/20 Women were competing once again within the Senior/Veteran race of 5200m. Rebecca Twardochleb led virtually from the gun to tape to claim her first victory in the Senior Race (and U/20's), with a winning margin of 31 seconds! Congratulations Becky our first victory in the Senior Ladies race in many years. We also had Lucy Matthews finishing for the first time in the top 10 with a fine run in 9th (and 4th U/20), Sophie Goodfellow in 26th (9th U/20) and Grace Ranford in 33rd positions (10th U/20). Great running by all our U/20's meant that the senior ladies team finished 1st on the day and are now in 2nd overall, just 1 point behind the leaders. Congratulations Ladies a great performance.