Another large turnout of members resulted in more great Individual and Team performances at Saturdays third fixture in the North Staffs Cross Country League, held at Stafford Common.
In the Junior, Senior and Veteran Ladies race we had a total of 27 members competing over the mostly dry and undulating common 2 lap course. Continuing her fine recent form Rebecca Twardochleb was once again at the forefront of the race but this time had to settle for 2nd place overall (19.21) and also 2nd U/20. Next in was Lucy Matthews who improved her finishing position by 2 places to move into 7th overall (20.12) and 3rd U/20. Michelle Buckle improved to finish 8th (20.25). Next was Sophie Goodfellow who made a big improvement of 15 places on her run at Parkhall to finish in 11th (20.55) and 4th U/20. Grace Ranford got into the top 20 for the first time in 18th (21.32) and 7th U/20, Lyndsey Dixon was 36th (22.20), Lauren Charlton finished in 42nd (22.40) and 10th U/20. Kayleigh Morris was 62nd (23.22), Rachel Wakefield 70th (23.48), Lisa Ho 76th (24.06), Jane Smallwood 93rd (25.00), Kat Saunders 103rd (25.24), Amanda Wood 116th (25.55), despite losing her shoe Maxine Bickerton was 122nd (26.20), Helen Ranford 132nd (27.20), Rachel Tweedie 135th (27.25), Cheryl Everard 137th (27.29), Vicki Stevens (who also lost her shoe!) was 140th (27.34, Pascale Wrigley 142nd (27.41), Belinda Riley 145th (27.52), Charlie Weller 152nd (28.23), Amy Whitehurst 158th (28.58), Nicola Brownsword 159th (29.02), XC debutant Sharon Tomkinson 168th (29.17), Tracy Johnson-Knowles 170th (29.39), Julia Bridgewater 195th (31.41) and Stephanie Nagington 210th (34.51). This fantastic turnout meant the senior ladies recorded a resounding win in the division 1, scoring just 28 points, compared to the 60 points of their nearest rivals and are now in first position by 37 points.  Overall Becky is in 2nd place in both the Senior Ladies and U/20 competitions, with 6 points (just 2 off top), Lucy is in 5th position in the Seniors and moved up to 3rd in the U/20's on 32 points and Grace is in 12th in the Senior Ladies and 5th in the U/20.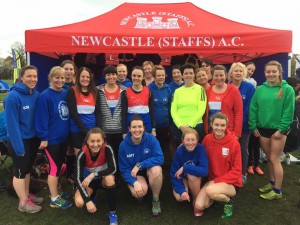 In the Junior, Senior and Veteran Mens race we had 17 men competing over the 3 laps, covering 4.5 miles. Our solo U/20 Man competing was Ben Meir who has rapidly improved in each of the 3 league races, finishing in 67th at Winsford, 34th at Park Hall and a fine 15th at Stafford (26.13) as our first finisher. Next in was Neil Dixon in 50th (27.55), closely followed by Tim Twentyman 54th (28.00) who also extended his lead with another win in the V/50 category, Shaun Allen 58th (28.05), Ian Baylis 63rd (28.10), Bruce Johnson 64th (28.17), Tim Sharman 66th (28.10), Ben Bewley 69th (28.32), Jerome Stevens 83rd (29.25), Andrew Walker 91st (29.42), Mark Cotton 171st (32.44), John Alcock 194th (33.17), Andy Worsey 213th (34.35), Paul Wakefield 233rd (35.47), Kevin Oakley 235th (35.50), Wil Chung 242nd (36.25) and Ian Goodfellow 269th (39.03). A really great turnout resulted in our Senior men finishing 4th on the day, scoring 304 points. That puts our men in 3rd place overall going into the final fixture at Staffordshire University on Saturday 16th December.
Our Juniors once again turned out in force with 28 members competing in the U/11 – U/17 age groups, their race report can be found HERE
Congratulations to all 72 club members who competed at this fixture!