Our Juniors enjoyed another highly successful days racing in Saturdays 3rd fixture of the North Staffs Cross Country League held at Stafford Common. We had 38 juniors competing, from U/11's up to U/20's.
First race of the day was the U/11 girls, held over 1 small lap covering just short of a mile. We had four athletes, sisters Ilana and Thea Bailey, Evie Worsey and Ruby Lovatt. Ruby was our first finisher again in 9th position (6.24), next was Thea in 22nd (6.49), Evie knocked 6 places of her best position so far in 33rd (7.24) and Ilana making her debut for the club in 43rd (7.45). The girls finished in 6th place on the day with 64 points and remain in 5th place overall.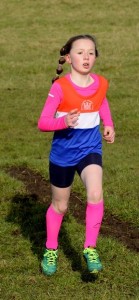 The combined U/11 Boys and U/13 Girls race, covers 1 medium lap of approximately a mile. In the U/11 Boys we had 5 runners with Harvey-Ray White as our first finisher, improving 5 places on the last fixture in 14th (6.11). Next in was Daniel Jones in 17th (6.32), Joseph Thorne in 32nd (7.03), Jamie Weller improved by 9 places, finishing in 44th (7.46) and Harry Hughes also improved 6 places up to 46th (8.11). The boys finished in in 5th position on the day with 63 points and move up into 4th position overall. With a big turnout at the final fixture could the boys get up into the medal positions?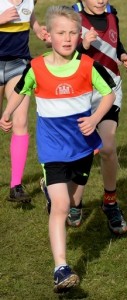 In the U/13 Girls race we also had 5 runners, with Beatrice Wakefield coming home in 17th position (6.34) as our first counter. Next in was Lucy Brownsword in 25th (6.54), Mathilde Wakefield 30th (7.08) with Maia Dilling, improving by 10 places just behind in 32nd (7.17) and Holly Cooper completed our team in 37th position (7.45), improving 8 places on her run at Winsford. The girls finished in 7th position on the day but remain in 5th position overall.

Next up was the U/13 Boys and U/15 Girls race, run over 2 medium laps totalling just under 3km. In the U/13 Boys we had 4 athletes competing. First home on this occasion was Jamie Betteley in 18th (11.05), Joseph Stevens was next in 27th (11.35), Charlie Ranford knocked 11 places of his position from Park Hall, finishing in 32nd (11.55) and Harrison Everard improved 4 places in 56th (14.03). The Boys finished in 8th position on the day with 77 points and moved up to 8th position overall.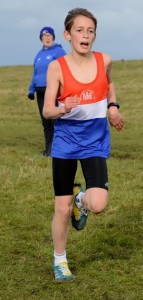 In the U/15 Girls race we had 6 athletes, with Misha Twardochleb knocking another place off to finish in 5th (10.55), Nadine Tomkinson was 8th (11.28) for the 3rd fixture running and with Scarlett Cotton who made the top 10 for the first time (11.33) we had our scorers in for just 23 points. Next in was Poppy Ranford who knocked 7 places off her position from last time out in 20th (12.50), with Lily Stevens also improving position by 7 places and just 6 seconds back in 22nd (12.56). Our final counter was Zara Hadden who improved 2 places to finish in 24th (13.24). The Girls finished in a fantastic first place on the day and moved into 1st place overall by just 4 points! Its going to be really close so good luck at the final fixture in December girls.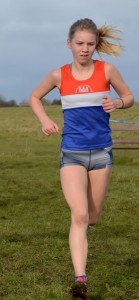 The 4th race was the U/15 Boys and U/17 Women race which was over 1 medium and 1 large lap, about 4km. Again we only had the 2 U/15 Boys competing and Louis Wakefield and Elliot Smith renewed their friendly club rivalry, after just 5 seconds separated them at Parkhall. Once more it was a really close contest and this time Elliot just triumphed, finishing in 15th (14.31) with Louis just 6 seconds back in 16th (14.37). A really great race between the boys yet again.
In the U/17 Ladies race we had 2 competitors, with Lizzie Clarkson finishing once again in 2nd position (15.57) and Alex Oakley improving yet again to finish in 10th (17.31). Lizzie is now in 2nd place overall just 1 point behind the leader going into next months final fixture. Good Luck Lizzie!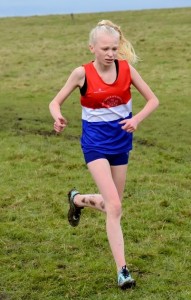 The next race was the U/17 men and U/20 Women (in with the Senior and Masters Ladies) over 2 large laps totalling 5km. In the U/17 mens race we had four athletes competing with Callum Mitchell taking part in his first race of the season alongside Jacob Droogmans, Jordan Nixon and Lewis Nagington. This was another really close race and our U/17's were once again right at  the sharp end of the race. On this occasion it was Lewis who got the upper hand as he gained his first victory in the league in a time of 16.59 , to win by 7 seconds. Next was Jordan who finished 4th (17.25), Jacob in 8th (17.44) and Callum 30th (24.25). These fantastic results meant our team finished in 1st position on the day with just 13 points! They are now leading overall by 66 points with just the Staffs University fixture to go. Individually it is really close too, with Lewis currently in equal 1st on 7 points, Jordan in equal 3rd on 15 points and Jacob in 5th with 21 points. It's a close battle for individual placings with just one final race to improve your position and lose your worst score – Good luck men!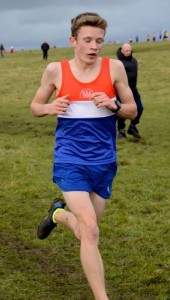 In the U/20/Senior/Masters Ladies race we had 5 U/20 women competing. Rebecca Twardochleb was once again at the forefront of the race but this time had to settle for 2nd place overall (19.21) and also 2nd U/20. Next in was Lucy Matthews who improved her finishing position by 2 places to move into 7th overall (20.12) and 3rd U/20. Next was Sophie Goodfellow who made a big improvement of 15 places on her run at Parkhall to finish in 11th (20.55) and 4th U/20. Grace Ranford got into the top 20 for the first time in 18th (21.32) and 7th U/20, Lauren Charlton finished in 42nd (22.40) and 10th U/20. Our U/20's helped the senior ladies to a resounding win in the division 1, scoring just 28 points, compared to the 60 points of their nearest rivals. The Senior ladies are now in first position by 37 points.  Overall Becky is in 2nd place in both the Senior Ladies and U/20 competitions, with 6 points (just 2 off top), Lucy is in 5th position in the Seniors and moved up to 3rd in the U/20's on 32 points and Grace is in 12th in the Senior Ladies and 5th in the U/20. Good luck to all our U/20 Ladies in the final fixture.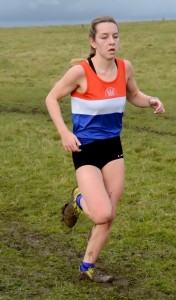 The U/20 Men compete with the Senior and Masters Men over 3 large laps of approximately 4.5 miles. Our solo U/20 Man competing was Ben Meir who has rapidly improved in each of the 3 league races, finishing in 67th at Winsford, 34th at Park Hall and a fine 15th at Stafford (26.13) Ben was also 3rd U/20 on the day and moved up to 5th U/20.
Club Results can be found HERE
Full Results can be found HERE
Thanks to Brian Dale for the photos – www.racephotos.org.uk
Congratulations to all our athletes who competed and represented the club, again there were some outstanding performances, both individually and as Teams. Good Luck to everyone at the final fixture in the league this year at Staffs University on Saturday 16th December, lets get as many juniors out as possible and finish the year on a high!