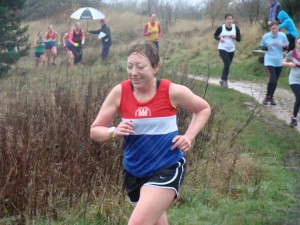 As I got into Michelle's car, for a lift to Park Hall, I realised why I didn't stay team manager for long. I simply did not match Michelle's meticulous preparations. As an example there was a bottle of Champagne in the foot well, ready to celebrate an outstanding run by any of her runners and a pair of pink heels, in the boot, ready for the long night of celebrations to follow.
If last week's Birmingham league race was "proper" XC ground conditions then yesterday was "proper" XC weather, with a fairly testing course to go with it. It was the sort of day when, good run or not, you go home happy just to have shelter, warmth and food. The women's race had the worst of the weather, whereas at Stafford the kids had the rain, so the men are probably due a sudden hail storm at Uttoxeter.
For those familiar with the Park Hall course, there was a slight change to the course. The start was moved back about 200m into the field, on the left (based on start direction) of the old start. This seemed to ease the congestion at the sharp corner at the bottom of the first hill. Further round the course, it seemed the gorse bushes were encroaching a bit more. I woke up this morning and noticed what seemed to be a rash on my thighs. There weren't too many possibilities, I did consider an allergic reaction to the full pint of beer knocked into my lap during the post race drinking, but decided in the end it was the gorse bushes.
I'm sorry there's no full results at the moment, I have a bit more idea about the men than the women.
In the Women's race Michelle was first counter, reasonably happy with her result, or at least not too unhappy. Rachel Wakefield was second counter followed by Hannah Jones. Amanda Wood followed up her recent Staffs Championship age group win in the 10 mile Flying Fox with a good run to be 4th counter, despite a fall. Laura Matthews made her mark with a fall that got her even muddier than Amanda. Also competing, in no particular order, were Charli Weller, Susan Twardochleb, Lisa Hawkins, Amy Whitehurst, Pascale Wrigley, Lorraine Droogmans and Miss Bridgewater? (sorry not sure on name).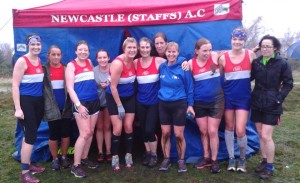 In the Men's race a lack of some the faster regulars allowed Tim Twentyman to romp home as first counter in 24th position. Martyn Davies made a good return to racing, after injury, second counter in 70th position. Mark Cooper had a very good race, after his practice in the mud last week at Leamington, finishing third counter in 113th. Some tight packing saw Dave Crowther have another solid race in 114th and Martin Bailey, returning to racing after some calf problems, finish in 118th. Bruce Johnson achieved his objective of finishing in the count (sixth Newcastle runner) with a good run in 155th. I get a bit more sketchy after this so apologies if I demote anyone too much. There were a cluster of Newcastle runners in the 220-240 positions, led home by Neil Gerrity, also including Mark Cotton,Ben Miller and John Alcock. Paul Wakefield was about 260th and Nigel Symms, easily remembered, 300th.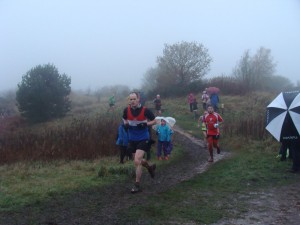 Though the final team score for the men was disappointing, at just over 600, this was down to missing runners, rather than any underperformance by the team on the day, in fact I would have thought the vast majority of the runners, men and women were pleased with their performance, given the testing course and conditions.
The supporters musn't be forgotten. Charli's rocky road (?) was as good as promised and seems increasingly to be used for pre-race fuelling as well as post race recovery! Another mention for Charli for bringing her red, white and blue pom poms, used by cheerleaders, Amy, Misha and ?, during the women's race. Thanks to the women who hung around to shout the men on. Thanks also to tent erectors, dismantlers, and carriers.
Thanks to Carl for his double dose of disc collecting, in the rain, collating of results on soggy sheets of paper and photography.
Final thanks to the marshalls, officials and organisers without whom the races wouldn't place.
An enjoyable day out, even if only in retrospect, or is that just me?