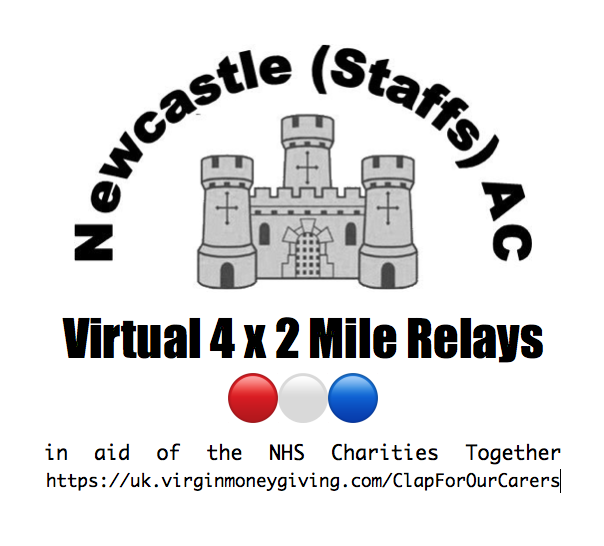 Welcome to the 🔴⚪️🔵 Virtual 4×2 Mile Relays in aid of the NHS Charities Together.
Simple set of rules – Following a blind random draw of the teams on Wednesday Evening*, you were to run 2 miles as fast as you could, always following government guidelines and staying safe, at any time over Thursday 23rd and Friday 24th April 2020. Total Elapsed time is used just as in a normal race. *note – Team 24 were a late entry so were put together.
Introducing the First Leg Runners
The first leg runners are on the start line….. And they're off!
Early news from the course is that theres a group at the front with Craig, Sophie G, Pab with a small lead over Andy S and Michelle B. Next through at Halfway are Lee, Poppy and Dylan, followed closely by Lily, Mark, Hannah, Mark K, Woody, Lucy and Rachel T. Bradley is in a bit of a gap, then its Sara, Harrison, Nic, Jon K, Cheryl, Tonia and Belinda are close together and looking strong.
The second Leg runners are waiting nervously in the pen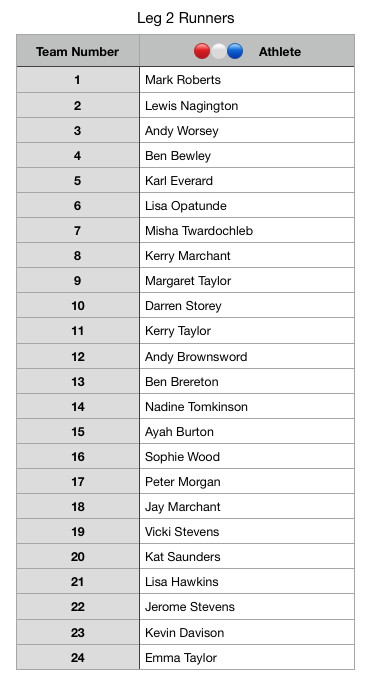 Oh, Here come the leaders, looks like Sophie G from Team 22 has a small gap on Team 3's Craig and then its Pab of Team 11 who is probably the same gap behind. Michelle is next followed by Andy S. Then its Poppy and Dylan who are racing together for the line – looks like a dead heat from here 🤷‍♂️
Lee is next, just 10 metres back Tyler is holding off a fast finishing Woody and Lily just pips Lucy and Hannah, Mark K is next for Team 17, with Rachel T not far behind. Still in a bit of a gap Bradley finishes next for Team 7. Jon K is next, holding off a late challenge from Harrison and Nic. The final five first leg runners come flying into the finish with Tonia beating Cheryl and Deb by about the thickness of a vest! Belinda is next for Team 10 and Sara brings home Team 19. Well done to all Leg 1 Runners!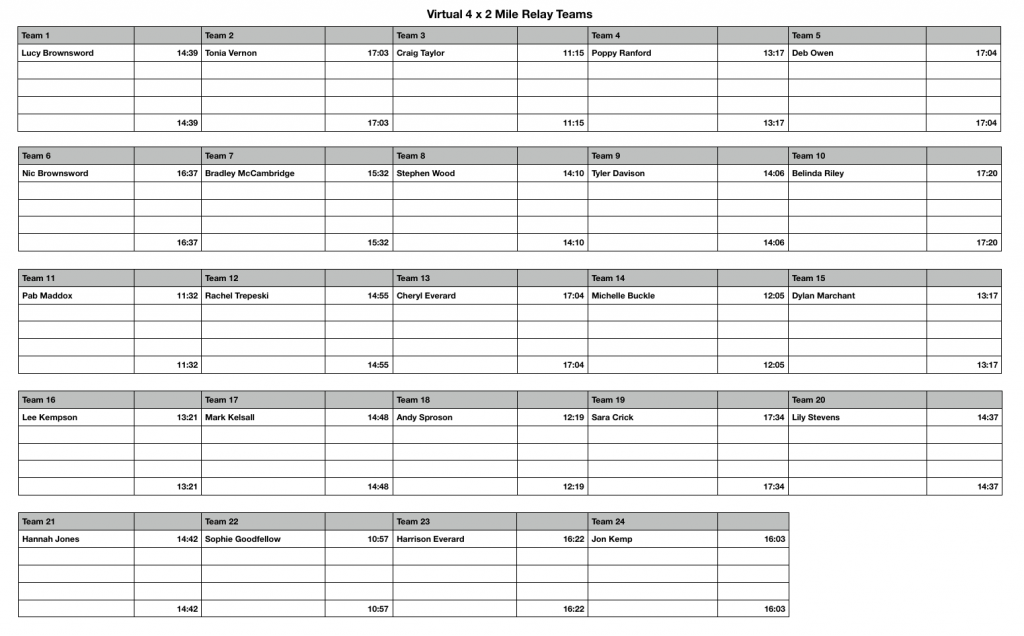 So the Leg 2 Runners are off, due to the random nature of the makeup of the race teams we are expecting big changes in the team order throughout the event. Reports at the halfway into this leg say that Team 22 are still at the front, but that there are several runners charging through the field looking to chase down the early leaders.
So here they come, Jerome is leading for Team 22, next is Nadine racing for Team 14 with Ben coming in just 17 seconds behind for Team 4. Team 18 are next with Jay, then there are four teams really close, Kerry M (Team 8) sneaks home in front of Andy Worsey who comes in for Team 3 about 20 seconds ahead of Mark R for Team 1, with Lewis Nagington flying round and bringing Team 2 into the top 10. There are now three teams who must all be within 10 seconds, Team 13's Ben looks to have had a good run, closely followed by Peter (Team 17) and Andy B (Team 12) – all three finishing with a sprint. Emma is next for Team 24 with Sophie W (Team 16) next and Karl bringing Team 5 back under the half hour.
Misha is just 5 seconds back for Team 7, whilst Kerry T comes back next for Team 11. Kevin is the next in for Team 23. Team 15 are next with Ayah and Kat brings Team 20 back just after 32 mins gone. Lisa O is next in for Team 6. Team 10 are the next to the changeover with Darren, then Lisa H (Team 21). The final two teams to complete their second legs are Team 9 (Margaret) and Team 19 (Vicki) and all the runners coming through have done their teams proud. Great running all Leg 2 runners!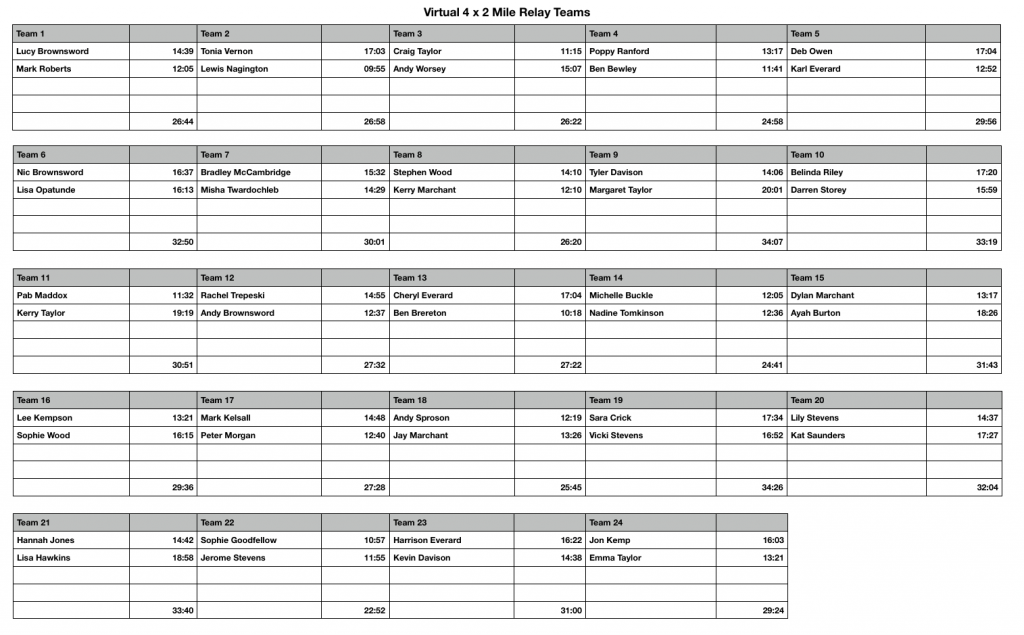 Half way through the Relays now – will there be more changes to the order?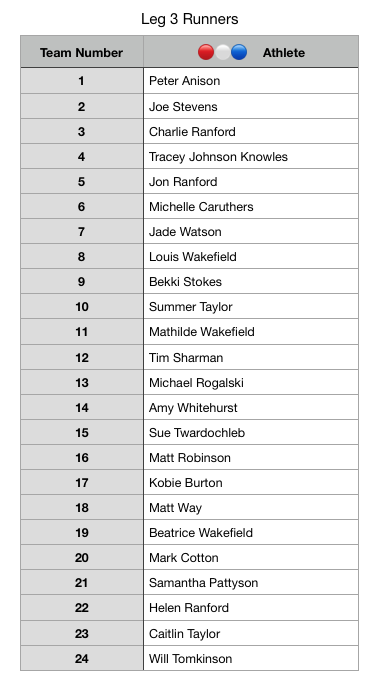 All the Leg three runners are now out!
News from part way through Leg 3 is that there is lots of teams surging through the field especially Teams 1, 3, 5, 8,12 16 and 20. Despite the social distancing, things are getting closer throughout the field! Here they come….
Helen is still leading for Team 22 but Team 8's Louis has closed the gap, that must be just 10 seconds now! Team 12 are next, Tim also looks like he's had good run – After 6 Miles racing less than a minute separates the first 3 teams! Team 1 (Peter) comes in next with Charlie (Team 3) completing the top 5. Team 18 who've all been pretty consistent so far move up to 6th with Matt W. Teams 4 (Tracey) and Team 13 (Micheal) are battling it out with Micheal coming in just a few seconds clear.
Three teams are coming in next with Matt R (Team 16) just holding off Jon R (Team 5) and Joe (Team 2). Jade is next in running the fastest leg for her Team 7 so far. Mark C brings Team 20 in next with Will just pipping Kobie to the line for Teams 24 and 17 respectively. Amy is next for Team 14 before a short gap to Mathilde (Team 11) and Sue coming in for Team 15. Sammie brings Team 21 back before a gap to Beatrice (Team 19), Michelle C (Team 6) and Caitlin (Team 23). Teams 9 and 10 are brought in by Bekki and Summer to mean all leg 3 runners are back. Excellent performances by all our Leg 3 Runners!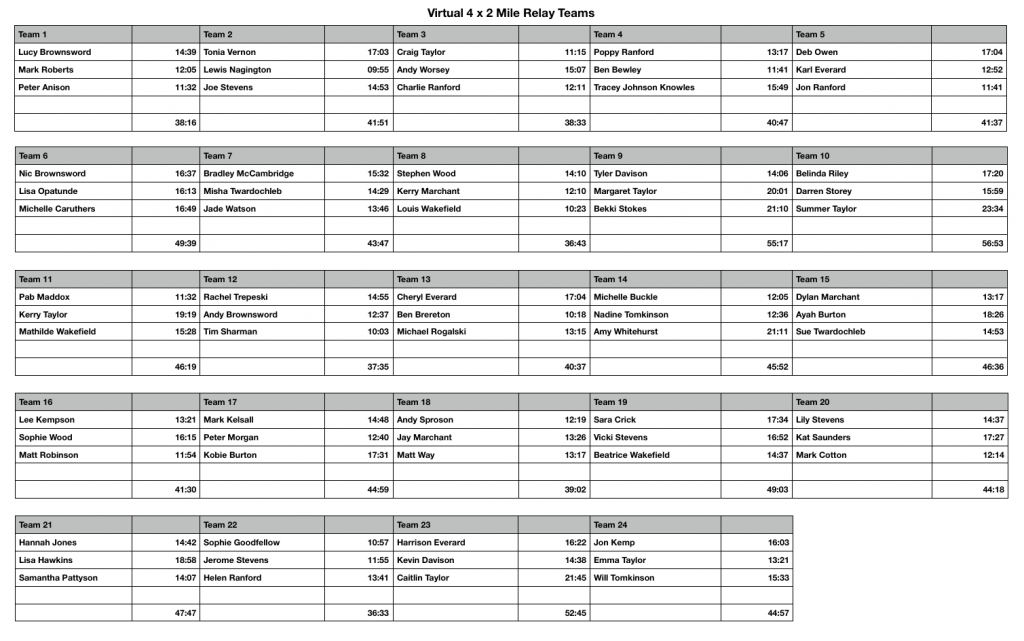 Onto the final Leg Runners… Who's the final member of your team???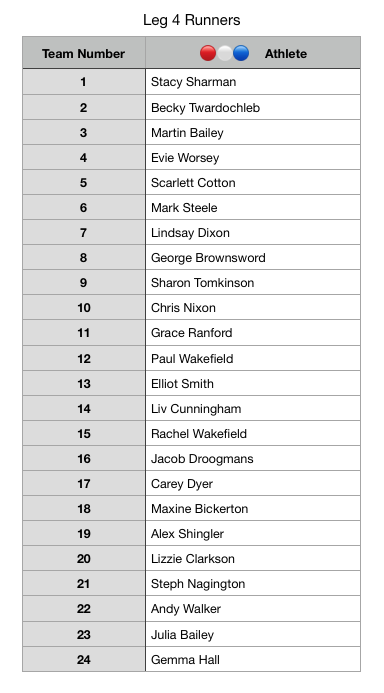 The Final Leg Runners are on their way – Still all to play for in battles throughout the field. After what seems like mere moments the first finisher is coming into view…
And its…..
Andy W with what looks like a clear lead – he takes the Victory for Team 22!
So thats the top spot filled, who's going to join them on the podium?
Wow… Team 3 have had a great finish with Martin (😉) moving them up into Second place! And then…
Its Elliot having run a fast final leg to bring Team 13 into Third!
Team 12 are 4th with Paul bringing them home just 8 seconds ahead of a fast finishing Jacob (Team 16). Its a final sprint and Maxine just Pips George to the line bringing Team 18 home just 4 seconds ahead of Team 8. Becky is finishing strongly for Team 2, putting them into 8th Overall. Team 5 are next home, brought back by Scarlett with Evie next, meaning Team 4 completed the top 10. Just 19 seconds have passed and we have a sprint! Stacy (Team 1) just holds off a fast closing Lindsay who brings home Team 7. Carey is next to cross the line for Team 17, with Grace closing her down but not making quite enough for Team 11.
Team 20 are brought home by Lizzie with Liv next back in for Team 14. Rachel W is next to finish for Team 15, having been closed down, but not caught by Mark S from Team 6. Alex runs his teams fastest leg bringing back Team 19 next. Gemma is the next in, bringing Team 24 home. Steph crosses the line to bring Team 21 back. Chris gets the better of Julia on the run in to bring home Team 10 with Team 23 finishing just 12 seconds behind. Sharon is our final finisher bringing her Team 9 home and concluding this 🔴⚪️🔵 Virtual Event. Congratulations to all our 4th leg Runners!
Hope everybody enjoyed taking part and remember if you can do and haven't already please donate to the NHS Charities Together here –
https://uk.virginmoneygiving.com/ClapForOurCarers
Standby for the Awards and Full Results…
Awards
FIRST – TEAM 22 (Sophie G/Jerome/Helen/Andy W)
SECOND – TEAM 3 (Craig/Andy Worsey/Charlie/Martin)
THIRD – TEAM 13 (Cheryl/Ben/Michael/Elliot)
FASTEST MENS LEG – Lewis 9:55
FASTEST WOMENS LEG – Sophie G 10:57