A busy end to December saw a cancelled final North Staffs Cross Country League race, a Santa Race at the club, a presentation, a Christmas Hat run and the Juniors Christmas Bowling party!
North Staffs Cross Country League
The final fixture fell foul of the icy conditions at Staffordshire University but thanks to the organisers and to Wendy Fradley, Andrew Brownsword, Stephanie Nagington, Lewis Nagington, Susan Twardochleb, Jon Ranford, Lynne Frith, Jane Holt, Tanya Vittorio, Vic Bevington, Tracy Johnson-Knowles, Julia Bailey and Martin Bailey who set up/took down the course and stayed for the presentation to collect all the trophies won by the club.
The races were decided over the 3 fixtures that did take place and our results were as follows:
U/11 Girls
Ruby Lovatt just missed out on bronze finishing 4th in her first year of racing xc
Thea Bailey finished in equal 12th place overall
Evie Worsey finished in 21st place overall
the team finished in 5th place overall
U/11 Boys
Daniel Jones was 11th place overall
Joseph Thorne was 23rd place overall
the boys finished just outside the team medals in 4th position
U/13 Girls
Beatrice Wakefield finished 11th overall
Lucy Brownsword was 15th place overall
Mathilde Wakefield was 17th place overall
the team finished in 5th position
U/13 Boys
Jamie Betteley was 15th place overall
Joseph Stevens was 20th place overall
Charlie Ranford was 25th place overall
the team finished in 8th position
U/15 Girls
Misha Twardochleb was 5th place overall missing bronze by just 6 points
Nadine Tomkinson was 6th place overall
Scarlett Cotton was 9th place overall
Zara Haddon was 18th place overall
Poppy Ranford was 19th place overall
Lily Stevens was 20th place overall
The team were winners of the league, winning gold by 4 points
U/15 Boys
Elliot Smith was 6th place overall
Louis Wakefield was 13th place overall
U/17 Women
Elizabeth Clarkson won silver, just missing a share of gold by 1 point
Alex Oakley was 10th place overall
U/17 Men
Lewis Nagington won a share of gold, with a score of just 7 points
Jordan Nixon won a share of bronze
Jacob Droogmans was 5th place overall
The team were clear gold medalists with a score of just 43 points over all 3 races
U/20 Women
Rebecca Twardochleb won silver with just 6 points (she also was 2nd overall in the Senior races too!)
Lucy Matthews won a clear bronze (she was also 5th overall in the Senior races)
Grace Ranford was 5th place overall (she was 11th overall in the senior races)
Our 5 U/20 athletes, Rebecca, Lucy, Grace, Sophie and Lauren all helped our Senior Women win the overall division 1 league title
U/20 Men
Ben Meir finished in 5th place overall
Ben helped our Senior Mens team to a bronze in the overall division 1 league
We had a presentation of the trophies the following week at the club and the pictures of that are below: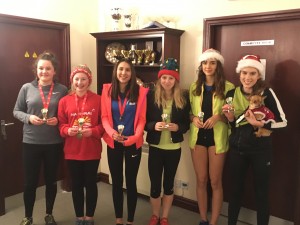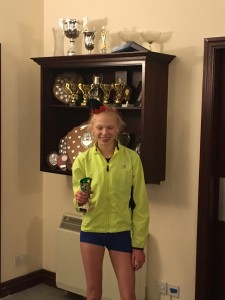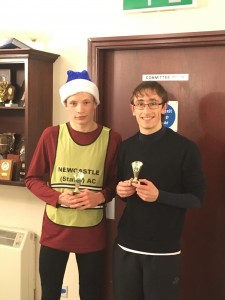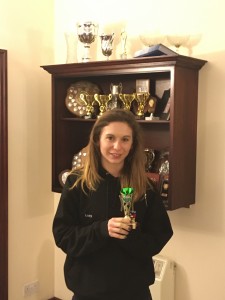 We also made a presentation to Jacob Droogmans who was awarded two Athlete of the Match awards earlier in the year at the Heart of England Track and Field League – congratulations Jacob.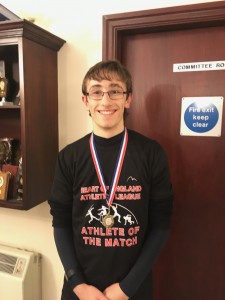 Congratulations to all those juniors who represented the club in the league this year and an extra thank you to the all parents/guardians/grandparents, to Julia Bailey as team manager and all the club coaches who have supported all our fantastic junior athletes in 2017!
Santa Race and Christmas Hat run – 19/12/2017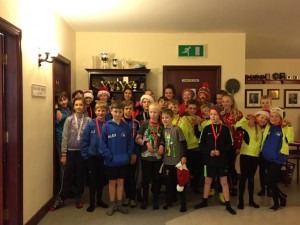 The clubs now annual juniors Santa race and Christmas Hat run was well attended, with all proceeds raised going towards the redevelopment of the clubs Long Jump facility. Thank you to all those that donated – we raised a total of £99 on the evening!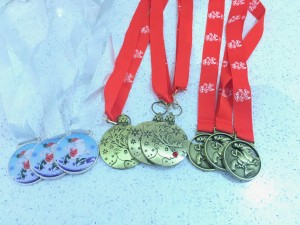 Juniors Christmas Bowling Party – 21/12/2017
This years bowling party took place on Thursday 21st December and we filled half of Ten-Pin at Hanley! 71 club members enjoyed an end of year celebration, with more and more Seniors enjoying it too!