The final juniors Track and Field club fixture in this years Heart of England League took place on Sunday 2nd July at The Dell, Dudley. Going into this fixture we were in 3rd position, but with the two clubs above us having already hosted fixtures hopes were high that with another good turnout of athletes we could climb into the top two positions and gain promotion for the second successive year.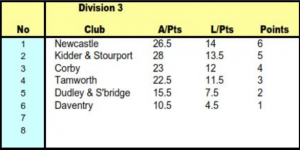 Competing at this fixture :
U,11's – Connell Latham, Daniel Jones, Evie Longmore and Maddy Walker.
U/13's – Joe Stevens, Oliver Burke, Harvey Price, Stephen Hobson, CJ Hobson, Beatrice Wakefield, Lucy Brownsword, Mathilde Wakefield, Holly Cooper and Sam Oakley.
U/15's – Louis Wakefield, Elliot Smith, Misha Twardochleb, Nadine Tomlinson, Scarlett Cotton, Zara Haddon, Lily Stevens, Imogen Burke and Harriet Groves.
U/17's Men – Billy Lovatt, Lewis Nagington, Jordan Nixon and Jacob Droogmans.
U/17's/Women – Rebecca Twardochleb, Elizabeth Clarkson, Charlotte Moore, Alex Oakley, Jenna Jones and Grace Ranford.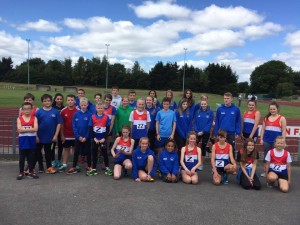 There were fantastic performances throughout the day, with countless PB's achieved and although not coming first in any age group our age groups were really consistent and were supported by full teams of officials (which gains points in each age group too). This meant that, despite confusion with the scoring on the day, we finished in a magnificent first position on the day which also meant that we not only climbed into the promotion places but did enough to become DIVISION CHAMPIONS! Congratulations to all the young athletes who competed for the club at the three fixtures this year your hard work and dedication to compete for the club has been rewarded. Thank you to all the officials, coaches, parents and helpers who have also worked so hard to allow our athletes to achieve these performances this year and thank you to the club for continuing to subsidise the coach travel to these fixtures.
Results will be found HERE Thank you to Rachel Wakefield for the pictures Below.