A wet and windy Parkhall welcomed our juniors to the third fixture in this years North Staffs Cross Country League on Saturday. With some of our athletes absent due to representing the Staffordshire Schools in the inter-counties match we had less juniors (30)  at this fixture but those present 'enjoyed' the testing and undulating nature of the Parkhall course.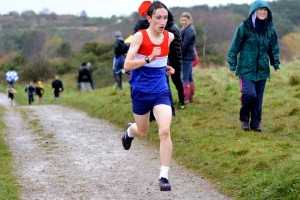 In the U/11 Girls Race we had Beatrice Wakefield, Lucy Brownsword and Mathilde Wakefield. The girls finished in 6th position on the day.
In the U/13 Girls Race Misha Twardochleb led the team home with her best finish of 3rd, followed home by Scarlett Cotton and Nikki Crutchley, finishing in a fine team 3rd position.
In the U/15 Girls race we only had two finishers as the clash with the schools fixtures meant two of the team were missing. Just 6 seconds separated Alex Oakley and Lola Cotton, who finished in 12th and 13th respectively.
In the U/17 Womens Race Rebecca Twardochleb was first finisher in 5th, Sophie Goodfellow was 7th, Courtney Bridgewood was 9th and Gabby Trotman was 10th. They dominated the opposition teams once again and finished with a total of just 21pts!
In the U/11 Boys Nathan Holdcroft was our only competitor finishing in 35th position.
In the U/13 Boys Louis Wakefield had a great run finishing in his highest position yet of 12th.
In the U/15 Boys Race Jacob Droogmans led from start to finish finishing in 1st position. Jordan Nixon was a fine 3rd for his best finish yet and the team was completed by brothers Thomas (31st) and Ryan Wood (34th). The team finished 2nd place on the day.
Going into the finial Race several of our teams are in a position to challenge for the top three places, and also Misha, Jacob, Jordan, Rebecca and Sophie have the chance to go for individual honours. Good Luck to you all at the final fixture next month.
We need all juniors to compete at the final fixture on Saturday 12 December at Uttoxeter Racecourse so please confirm your availability with Julia Bailey asap.