Saturday saw the next round of the North Staffs Road Runners League at the Meerbrook 15km. The race also included the latest inter county competition and we had four athletes representing Staffordshire, with Lauren Charlton, Ian Bayliss, Tim Sharman and Bruce Johnson all selected. The notoriously tough course through the Staffordshire Moorlands was made even tougher by the hot and humid conditions.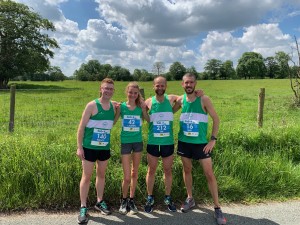 Our first finisher was Ian Bayliss in 11th, running 59:33 (an improvement of 1:30 on last year), with Tim Sharman in 16th (1:00:00) and Bruce Johnson in 18th (1:00:10) all helped the Staffs Mens Team to finish in 3rd position in the Inter County Competition.  Lauren Charlton finished 44th overall and 4th lady in 1:06:01, to help the Staffordshire Ladies to a fine 1st position. Next in was Scott Zikmanis in 81st (1:11:35) to bring the mens team home in equal 2nd, Nathan Walton was 95th (1:14:06), Lisa Ho was 117th (1:16:43), Matthew Robinson was 129th (1:18:49), Mark Roberts was 134th (1:19:24), Tonia Vernon was 193rd (1:31:06), Sally Aldridge was 222nd and 1st F70+ (1:43:28) and John Munton Davies was 223rd (1:43:08).
Congratulations to everybody that took part and especially to Ian, Tim And Bruce on gaining their first Staffordshire County Vests.