There was another successful days racing by athletes from the club at Sundays Stone St. Michaels 10km Road Race.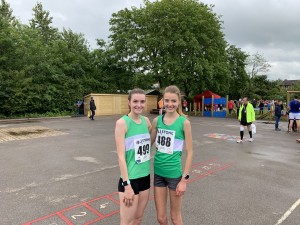 Sophie Goodfellow and Lauren Charlton raced it out at the front of the ladies race and were separated by just 5 seconds at the finish when they finished in 1st 38:32 and 2nd 38:37. As well as both recording PB's they lead both our ladies team and also the Staffordshire ladies team home in first place. Lisa Ho completed our victorious ladies team. On the mens side Melvyn Askey finished as first MV60 in 40:40, whilst in the MV70 category John Smith recorded another victory in 48:29. Plenty of members ran great races and the clubs results can be found below:
28th Ben Bewley 36:54
39th Sophie Goodfellow 38:32 (1st FSen)
41st Lauren Charlton 38:37 (2nd FSen)
43rd Christopher Morgan 38:43
58th Mark Steele 39:47
72nd Melvyn Askey 40:40 (1st M60)
73rd Joel Harrison 40:49
105th Nathan Walton 43:06
118th Thomas Mogg 43:52
119th Stuart Cassidy 43:56
130th Lisa Ho 44:28
133rd Mark Robberts 44:36
137th Mark Dixon 45:01
186th John Munton-Davies 47:48
187th Darren Storey 47:53
201st John Smith 48:29 (1st M70)
208th Jan Cassidy 49:02 (3rd F50)
237th Neil Regnauld 49:57
254th Nigel Lee 50:43
387th Sally Aldridge 59:19 (3rd F70+)
402nd Rebecca Siery 1:00:32
Well done to everybody that competed.