It was a new venue, Donnington Park, for the English National Cross County Championships, used previously for a National schools cross country. The convenience of the location meant that we comfortably managed to field teams in both the senior men's and senior women's races.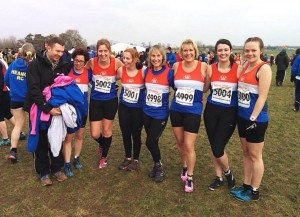 It was a fairly pleasant day, for winter, dry, coolish, bright at times with a moderate breeze, not so strong as at the Midland Champs, where it was a struggle to keep the club tent in one piece. Off the course, at least, the ground was fairly dry, not one of those days where everything ends up covered in mud.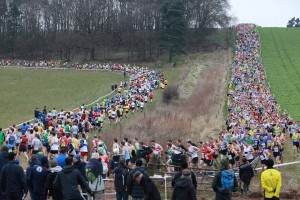 The course was almost continuously undulating. Some of the hills were quite steep, up to about 20% (?)gradient. It was a course where you never felt you knew where you were, there was never really a point where you could see far ahead. Quote from Mark Cotton, "I'd done over five miles, I thought I must be on the final lap, then the leader lapped me." Looking at the course profile now, the nature of the lap was, start from the high point, about 310ft, descend mostly with some small ascents to about 170ft then climb mostly with some small descents, back to the high point. This resulted in about 100 feet of climbing per mile, as hilly as any courses we've done this season.
Then there was the mud. I sometimes think we need many words for mud, as in the arctic circle you need many words for snow. Saturday's mud was mostly a dry sort of mud, people weren't covered head to toe in the splashes, our feet remained pretty dry. Nevertheless it wasn't any easier to run through, it was sticky, sticky enough to remove a lot of shoes, including one of Hannah's. The worst section was uphill near the end of the lap. As I ran round the final lap, a bit disorientated by the course, I was wondering whether I'd got the muddy section to do again and after about 7.5 miles I found out, yes I had got do it again.


In the women's race it was a tight race between Rachel Wakefield and Hannah Jones, for first Newcastle woman. In the end Rachel was just twelve seconds ahead, Hannah finishing with her shoe in her hand, times 42:59 and 43:11. Next counter was Amy Whitehurst in 46:46. Sue Twardochleb and Lisa Hawkins were very close together for the first mile but Sue pulled away to finish in 48:58 and Lisa in 50:01. Next were Laura Matthews and Lorraine Droogmans in 54:18 and 55:19, Newcastle's final two runners. A good run by the women to finish 68th team in England.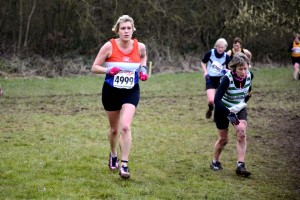 The number of runners in the men's race, nearly 2000, means a fast start can be important. The start line was over 100m long with a left to right downhill slope. It seemed to me runners at the left hand end may have had a slight advantage in getting away quickly. Newcastle were towards the left hand side and Steve Ratcliffe and Tim Twentyman both got fairly fast starts. Steve finished an excellent season with another very good run, first home for Newcastle in 50:11. Second for Newcastle was Tim Twentyman who lost a bit of momentum mid race before spotting a couple of local rivals to race over the final lap.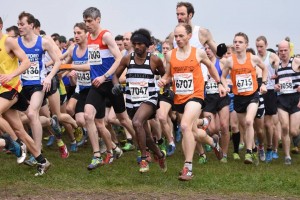 Martin Bailey had a fairly good run, just perhaps tiring a bit in the last couple of miles? He was third counter in 59:17. Jason Blount turned out, for his one cross country of the season, having had virtually no sleep after a night on duty as a fireman. Nevertheless he ran well to finish in 1:01:06, just pipping Dave Crowther, 1:01:28, and earning selection for all next season's races!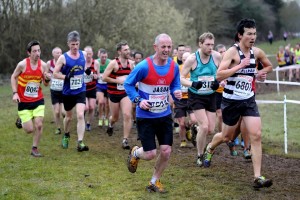 Final counter for the team was Mark Cotton, finishing in 1:08:06. Not too far behind was another one cross country a year runner, Charles Larsson, finishing in 1:10:58 just ahead of Kevin Oakley, 1:11:29. Next in was Paul Wakefield in 1:14:31.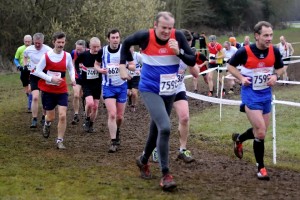 The men's team finished 80th team, not quite as good as the women!
Hope everyone enjoyed themselves, that's about it for cross country this season. I'm sure we're all looking forward to getting cold and muddy again in the autumn but perhaps a warm sunny interlude might be nice first. Thanks to everyone involved in organising, coaching, supporting and administrating, particularly, Martin and Julia Bailey, Michelle Buckle and Carl Martin. Also thanks Bryan Dale who's photos I've used.