A number of Newcastle athletes competed this Sunday (14th). Rachel Degg, Steve Bailey and Graham Fletcher made the longest journey, competing in the Barcelona Half Marathon. Bridget and Belinda Riley, Charles Larsson and Tracey Bagguley competed in the Stamford Valentine's 30k (Lincolnshire?). Andy Worsey was sole Newcastle runner at Wrexham Half.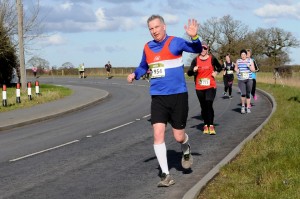 Michelle Buckle decided to acknowledge her age and enter a Masters race in the V40 category. The race she chose was the Lytchett 10mile, near Bournemouth in Dorset. The race incorporated the British Masters ten mile championship.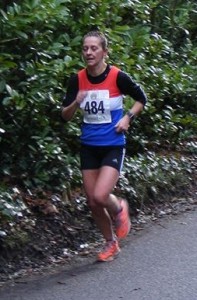 It was a pleasant sunny winter morning for Michelle's race. The race started with a mostly downhill first mile but then climbed on and off all the way to about seven miles with a bottom to top ascent of about 300 feet. In total there was about 670 feet of climbing, according to Strava anyway. Michelle ran a well paced race to be only twenty seconds a mile slower than she was at Alsager, over a much tougher course of twice the distance, finishing in 67:30. The performance was good enough for Michelle to comfortably win her age category, by a margin of nearly four minutes, and to be third lady overall. So well done Michelle, BMAF 10 Mile champion.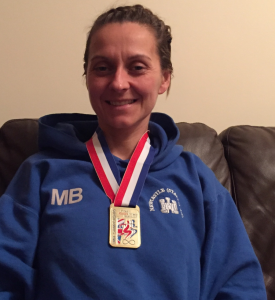 It looks as though it might almost be worth a trip to Lytchett, as the main focus of the organising club seems to be providing quality cakes.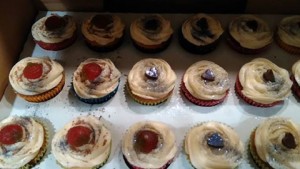 In Barcelona Steve Bailey had a good run to be just outside his pb in 1:22:27. Rachel and Graham had an incredible battle to finish in a virtual dead heat of 1:44:06, or perhaps alternatively decided to run round together.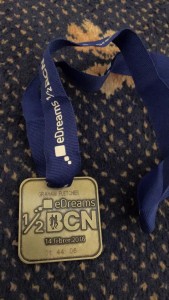 The Stamford 30k is a very popular marathon preparation race, mostly run along flat to gently undulating country lanes. Another incredible battle there (?) with Charles and Tracey finishing in 2:50:15 and 2:50:14 respectively. Bridget Riley was next home in 3:08:50 ahead of Belinda in 3:29:51.
We had a single competitor at the Wrexham Half Marathon, Andy Worsey, who ran a pb of 1:57:23.