Saturday 30th October saw the first club league cross country fixture in the North Staffs Cross Country League and we had 18 Ladies, 20 Men competing at Winsford.
The ladies race combines the U/20's, Senior Ladies and Veteran Ladies over two large laps (approx 5km) of the gently undulating (but muddy this year!) course.
Our first finisher was Rebecca Twardochleb who improved on her 6th place finish at this fixture last year to finish in 3rd place overall. Fellow U/20's Lucy Matthews and Grace Ranford were our next two finishers in 16th and 21st positions. Kayleigh Morris was our 4th finisher in 41st. Rachel Wakefield was 68th (and our first LV45). Hannah Jones was 76th, Kat Saunders 93rd, Catherine Bridgewater 101st, Sue Twardochleb 115th, Amanda Wood 120th (and our first LV50). Rachel Tweedie 131st, Belinda Riley 145th (our first LV55). Nicola Brownsword 148th (our first LV35) with Amy Whitehurst just behind in 149th. Pascale Wrigley 160th, xc debutant Tracy Johnson-Knowles 162nd, Julia Bridgewater 180th and Stephanie Nagington 199th (our first LV40). A great team performance and a fantastic turnout by all our ladies meant that the team was 3rd (in Division 1) on the day with 81 points.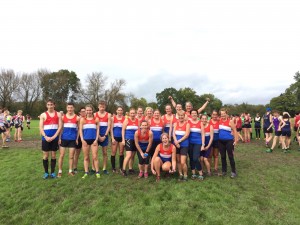 The Mens race again combines the U/20 Men, Seniors and Veteran Men but this time covering 3 laps and approximately 8km of the by now increasingly muddy course.
First finisher on his debut for the club was Felix McGrath finishing in 2nd place but unfortunately his clearance hadn't come through in time so was later DQ, Martyn Davies was next in 47th, just 9 seconds ahead of Tim Twentyman in 53rd (Tim was also first MV 50 in the race). Ben Meir was 67th, Bruce Johnson 74th, Ian Baylis (running his first xc for the club) in 81st position and completed the scoring 6 was Sean Allen was 87th on his first taste of xc. Neil Gerry was 95th, Tim Sharman (another making his xc debut) 103rd. Jerome Stevens 132nd (our first MV 40), Jon Ranford 151st (Our first MV45), John Alcock 189th, Mark Cotton 192nd, a xc debut for Andrew Brownsword in 208th, Paul Wakefield 247th, Kevin Oakley 249th, Ian Goodfellow 271st closely followed by James Ibbs (on his first xc start) in 272nd. Paul Armitt was 284th on his first taste of xc and Darren Smith completed our team in 288th. Our points score was 398. Another great performance from the men and a really encouraging turnout of senior/veteran members means we are in the medal positions in both the Senior and Vet categories. The next fixture is on the 28th October at Park Hall and again we need as many athletes as possible to compete.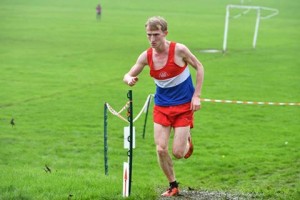 Full results can be found HERE
Our Juniors also competed in the league and their Race Report can be found HERE