On Saturday we had two Senior teams taking part in the National Cross Country Relays held at Berry Hill Park, Mansfield. We also had four juniors teams taking part – See HERE
This is a national event where (at least briefly) you are rubbing shoulders with our countries top runners. Its a dry parkland course with a few twists and turns but is basically an oval shape so you can encourage your teammates in several places on the lap, and this leads to a great atmosphere at this event. The Senior Ladies event consisted of teams of 3 running 3km each, whilst the Men had a team of 4, with each runner covering 5km.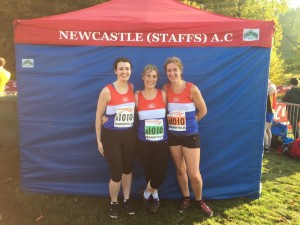 In the Senior Ladies Race we had Amy Whitehurst on first leg and she ran 14.29 to finish in 114th position, next up was Lorraine Droogmans who ran 16.59 and moved the team up one position to 113th, and finally Sue Twardochleb who ran 14.58 to bring the team home in a great 98th position!
In the Senior Mens race Dave Crowther was on the first leg and he recorded 20.05 to put the team into 151st position, our next runner was Mark Cotton who ran 22.02 to move the team up one place to 150th. Kevin Oakley was our third runner and he recorded a time of 24.19, moving the team up two places to 148th. Our final Leg runner was Martin Bailey who ran a time of 21.42 to bring the team home in 139th position.
Congratulations to all our seniors who took part and represented the club at this event.